Climbers say Everest season is over after quake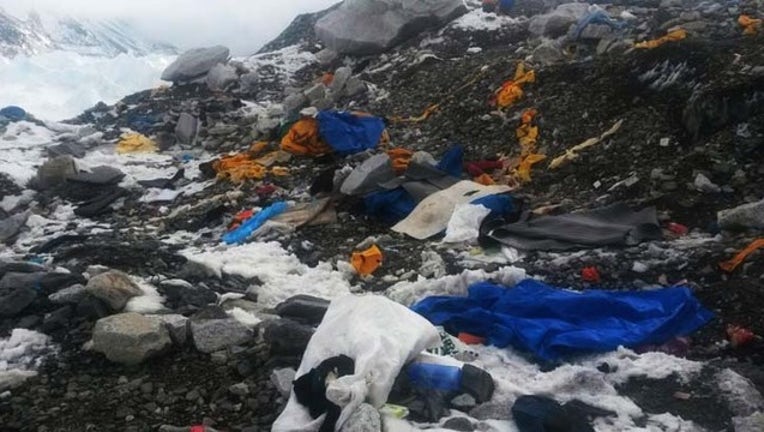 article
SEATTLE (AP) — All climbers on the Nepal side of Mount Everest have left the mountain and the climbing season is over following a deadly earthquake that left thousands dead in Nepal and dozens of climbers killed or injured after an avalanche swept across the basecamp staging area, according to guiding companies and individual climbers.
And teams attempting to climb the north side of Everest, the Tibet side, were called back to basecamp over the weekend and were holding discussions with Chinese officials about whether any summit attempts will be possible in the few remaining weeks of the spring climbing season, according to Adrian Ballinger, who is guiding a team for the Olympic Valley, California-based Alpenglow Expeditions.
Eric Simonson with International Mountain Guides said their team came down with others on the Nepal side who had been trapped above the Khumbu Icefall, which was impassable due to an avalanche that swept away a fixed route through that section of mountain.
"These will be the last of the climbers on the mountain," he said in a Monday blog post.
The huge avalanche on Everest that killed 18 and injured dozens happened after Saturday's magnitude 7.8 earthquake killed more than 4,000 people in the Himalayan nation.
Climber and filmmaker David Breashears and his GlacierWorks team had descended to Everest Base Camp and on Tuesday were cleaning the site before returning first to Lukla, then to Kathmandu later in the week, according to Ellen Golbranson of the company. Breashears was there to document changes to Himalayan glaciers.
"David and his team are collectively working with the small number of remaining teams to clean/collect debris, recover equipment and personal effects strewn hundreds of meters across Base Camp by the hurricane force wind air blasts caused by the avalanche," she said in an email.
Most Everest summits occur between May 10 and 20, so it's too late to think about trying to go back up the mountain this year before the monsoon season, said Gordon Janow, director of programs at Seattle-based Alpine Ascents International. Their team was airlifted from Camp One to basecamp and are preparing to leave the region, although some may stay behind to help with disaster relief, he said.
As far as climbing on Everest again, he said that's too far out to think about.
"The next climbing season is a year away and right now we're more focused on Nepal and taking care of the communities that are there," he said.
Every year hundreds of people attempt to scale the world's tallest mountain, with many paying tens of thousands of dollars to guide companies that attempt to get them to the 29,029-foot summit.
Rainier Mountaineering Inc. guide Dave Hahn described the scene coming off the mountain as orderly but urgent as people were flown down by helicopters.
"Eventually there were four or five birds in the air at any time, flying a dramatic loop from BC to Camp One to BC," he said in a blog post. "A line of climbers with packs formed at each pad and a stream of climbers from Camp 2 made their way into what was left of Camp 1 and then joined the queues. It took four laps in Kiwi pilot Jason's B3 to get our team down.
What they saw when they returned was devastating, he said.
"We'd put down at the epicenter of a disaster and we could barely believe our eyes," he said.
Hahn said their season is done and they're headed home.
"We've come to the inescapable conclusion that Everest summit for 2015 is out of reach for our team," Hahn said on the team's blog.
"Besides the rather obvious and glaring philosophical difficulties of pursuing a recreational venture in the midst of a national and local disaster, there are the on-the-ground mountaineering realities that will not permit us to look upward again. We have no viable route through the Khumbu Icefall and the Earth is still shaking."
Most climbers at this point in the season would be building a route to Camp 4, rather than Camp 1, he said.
"We'll put our efforts into an organized and safe retreat from the mountain," he said.