Coates hopes 'Black Panther' hype transfers to comic book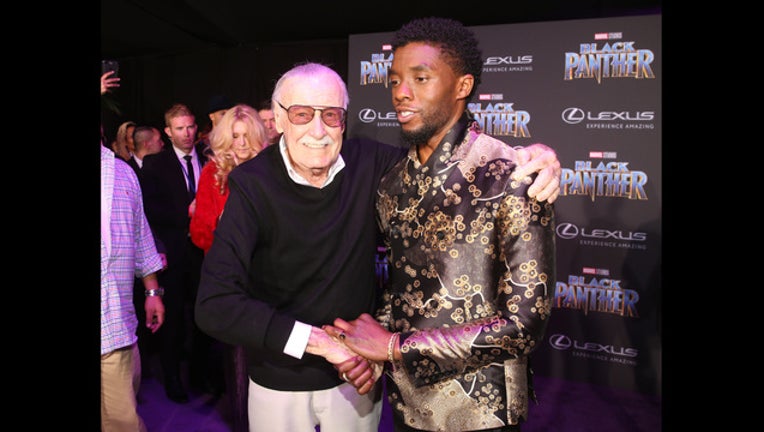 article
By JESSE J. HOLLAND
Associated Press
   
WASHINGTON (AP) -- As people gear up for the "Black Panther" movie, Ta-Nehisi Coates wants them to check out the original source, Marvel's Black Panther comic book, where he's booting up a massive outer space adventure for the king of Wakanda.
The award-winning author and journalist, in an interview with The Associated Press, predicted that the Black Panther movie would "be the best Marvel film so far."
"(But) if people want something that they can be deeply involved in, if people want something that raises questions that extend out of the comic book and into the real world, if people want to see some amazing high-tech (stuff), this is a good jumping on point," said Coates, now in his second year writing the adventures one of the first comic books heroes of color for Marvel.
The Black Panther is the alter-ego of T'Challa, the leader of Wakanda, a technologically-advanced (but make-believe) African country. A longtime ally and one-time member of both the Avengers and the Fantastic Four, T'Challa uses his wealth, inventions, and country's resources to battle against evil from both inside and outside his country's borders while serving as the head of the government.
The character got a boost as a supporting character in 2016's "Captain America: Civil War." The much-hyped movie "Black Panther," starring Chadwick Boseman as the eponymous superhero, opens on February 16, picking up the adventures of the African king and superhero.
Coates said he's seen parts of next month's movie helmed by "Fruitvale Station" and "Creed" director Ryan Coogler, and calls the director a "superior filmmaker" and a "once-in-a-generation talent."
"Black people have not really had avatars out there like that they can identify with, and Panther is the biggest one right now," Coates said. "I think what Ryan is going to do in terms of how this is going to look is going to blow people away  ... It feels like thematically a natural tie."
Coates wrote his first Black Panther comic book in 2016 but the series is getting a new start in April with a story line called "The Intergalactic Empire of Wakanda," where T'Challa discovers some of his Wakandan subjects have colonized alien planets in his name and created a civilization where he's almost worshipped as a god.
"This is not even just about T'Challa being in space or the idea of Wakanda in space. There have been core questions about kings, responsibly and morality that have extended throughout the book," he said. "There have been core questions especially this year about the nature of divinity and gods and this Intergalactic Empire is an extension of that."
Coates is best known for his political and social commentary. He won the National Book Award last year for "Between the World and Me," an anguished meditation on police violence against blacks. He also released "We Were Eight Years in Power," which collects his writings about Obama, last year.
Earlier this month, Coates deleted his widely followed Twitter accounted; it followed after criticism from activist Cornel West became a hot and much debated topic on social media.
Coates said he feels his departure from Twitter is akin to getting out of a dysfunctional relationship.
"I miss it, but Twitter is that bad girlfriend I had to catch in bed with two dudes in order to leave, that I knew was a bad girlfriend before that, that I knew I should have left, so I did and I'm gone and I'm glad she's out of my life," he said.
Coates is also not interested in talking about West.
"I wish Cornel the best. It's the 25th anniversary of his book, `Race Matters' and I don't really want to do anything that would overshadow the work that he's doing. I also don't want to do anything to overshadow the work I'm doing," he said.