Comcast founder Ralph Roberts dead at 95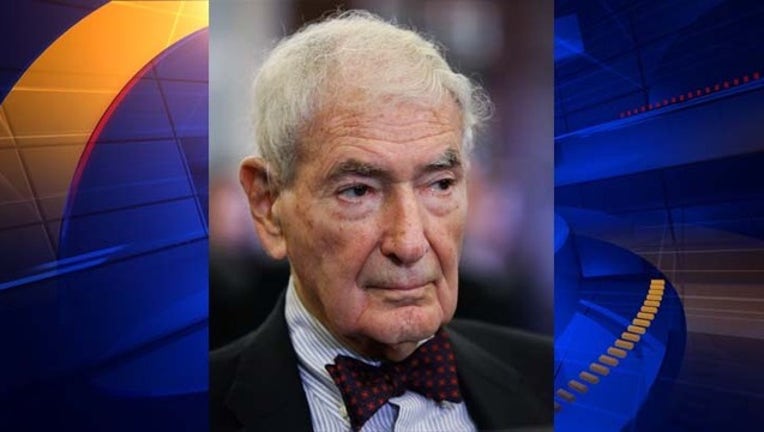 article
NEW YORK (AP) — Ralph Roberts, who built Comcast from a small cable TV system in Mississippi into one of the nation's largest entertainment companies, has died. He was 95.
Comcast said in a statement that Roberts died Thursday night in Philadelphia of natural causes.
Roberts jumped into the fledgling cable TV industry in 1963 by spending $500,000 to buy American Cable Systems, a company in Tupelo, Miss. He then acquired other cable systems, changed the name of the company to Comcast and ran the company until he was in his 80s.
He handed control of the company to one of his sons, Brian, who is now Comcast's chairman and CEO. The younger Roberts expanded beyond his father's vision and led Comcast to own NBCUniversal.
"He remade the cable industry. When he started, it was a bunch of mom and pop businesses. He's shown that you can take that idea and transition it to a worldwide media business," said Terry Bienstock, a former general counsel at Comcast who met Roberts in the early 1980s. "The NBC thing will be his legacy."
Ralph Joel Roberts was born in New York City on March 13, 1920, into an affluent family. They owned a drugstore chain in Westchester County, N.Y. But things took a dire turn during the Depression.
"My father died, and we lost all our money. People who never had a financial problem in their lives can never understand what terror there is in that," he told The New York Times in 1997.
That experience gave Roberts the determination to seek financial security.
His family moved to Philadelphia and Roberts put himself through the University of Pennsylvania. One of his first jobs was with Aitken Kynett Advertising Agency, where he worked his way up from researcher to account executive. A client at Aitken Kynett was the local franchise of Muzak Corp., the company behind elevator music. He joined Muzak and rose to vice president.
But he didn't like the pressures of the job and sought to leave. A recruiter brought him to Pioneer Suspender Co., a maker of men's accessories such as belts, suspenders and ties, and two years later he would buy the company.
In 1961, he noticed that beltless pants were coming into style and he became concerned that he wouldn't sell as many belts, his company's top product. Men also weren't wearing ties, shirts and cufflinks as often. So he sold the company.
Using money from the sale, Roberts set up an investment company. A street encounter with an acquaintance led to his purchase of American Cable Systems.
In 1969, the company was renamed Comcast — a combination of "communications" and "broadcast" — and incorporated in Pennsylvania. Roberts began acquiring smaller cable systems and built the company into the nation's fifth-largest by 1988. Two years later, his son would become president of Comcast and continued the expansion Roberts began.
Now Comcast is the nation's largest provider of cable TV and home Internet service.
Roberts often served as a diplomat for the entire cable industry, trying to bring regulators and cable executives together, said Reed Hundt, former chairman of the Federal Communications Commission. In particular, Hundt remembers the approach Roberts took in criticizing the FCC's policies at a dinner in 1994.
"Instead of beginning by criticizing or challenging, he said, 'I'm sure you're doing what you think is best and you have a particular job to do that I respect. Then he began to tell me in a very gentle way the mistakes that I've made," Hundt said.
"But by beginning in the way that he did, he made it so easy to listen to him," he said.
Bienstock recalled how he was introduced to Roberts' folksy manner when he was first hired at Comcast. New in town, with his family still in Miami, Bienstock got a call in his hotel room one night from Roberts. The boss had tickets to the theater and Roberts' wife had decided not to go.
"Do you want to be my date?" Roberts asked.
"That was Ralph's way of making you feel at home," Bienstock said. "That's a typical Ralph thing."
Roberts stayed CEO of Comcast until 2002, when he was 82, before ceding the title of chief executive to his son. That year he also left the chairman's post.
But even in 2009, as Comcast was negotiating to buy a controlling stake in NBC Universal from General Electric Co. for $13.75 billion in cash and assets, Ralph Roberts played a role in the purchase. In July 2009 Roberts and Comcast's chief operating officer, Steve Burke, flew to Sun Valley, Idaho, to meet with GE's CEO, Jeff Immelt. It was after that meeting that Comcast and GE struck a deal.
A graduate of the Wharton School of the University of Pennsylvania, Roberts also served in the U.S. Navy. He was a well-known philanthropist in Philadelphia, supporting such efforts as Project H.O.M.E., an outreach program for the homeless.
Roberts is survived by his wife, Suzanne, and four of his five children.