Comey: Trump sought to 'lift the cloud' of investigation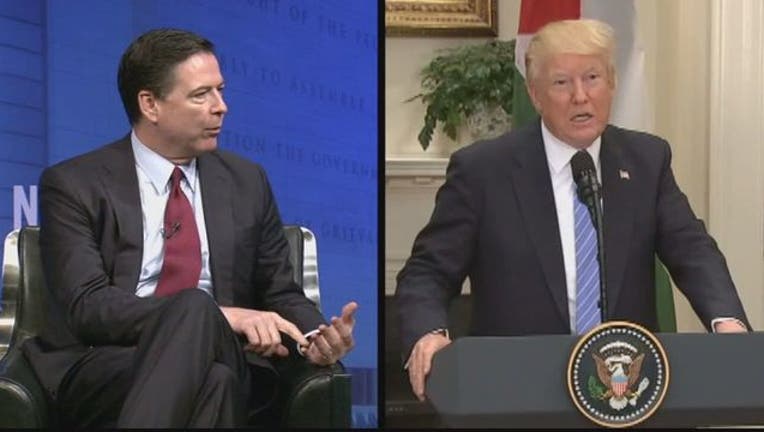 article
WASHINGTON (AP) — Fired FBI Director James Comey will testify under oath Thursday that President Donald Trump repeatedly pressed him for his "loyalty" and directly pushed him to "lift the cloud" of investigation shadowing his White House by declaring publicly the president was not the target of the probe into his campaign's Russia ties.
Comey's detailed and vivid recollections of his one-on-one conversations with Trump were revealed in seven pages of prepared testimony released Wednesday, the day before his much-anticipated appearance before the Senate intelligence committee.
His remarks paint a picture of an FBI director so disconcerted by his interactions with the president that he began keeping written memos of their private discussions. He'll tell lawmakers he believed the president was trying to create a "patronage relationship" with him and describe in detail an Oval Office meeting in which Trump urged him not to investigate ousted National Security Adviser Michael Flynn's contacts with Russian officials.
But the ex-FBI director also will validate Trump's assertion that he was not personally a target of the federal counterintelligence investigation into possible campaign collusion with Russia. Comey says he did offer the president that "assurance," but resisted Trump's appeals to make that information public.
"The FBI and the Department of Justice had been reluctant to make public statements that we did not have an open case on President Trump for a number of reasons, most importantly because it would create a duty to correct, should that change," Comey says in the prepared remarks.
Trump's personal lawyer said Trump was cheered by the testimony.
"The president is pleased that Mr. Comey has finally publicly confirmed his private reports that the president was not under investigation in any Russian probe," attorney Mark Kasowitz said in a statement. "The president feels completely and totally vindicated. He is eager to continue to move forward with his agenda."
Comey has not spoken publicly since he was abruptly fired by Trump on May 9. His dismissal, four years into a 10-year term, fueled claims Trump's ultimate aim was to quash the investigation and obstruct justice, potentially a federal crime or an impeachable offense. Some legal experts said Comey's account could bolster such a case.
Ryan Goodman, a professor at New York University School of Law, said Trump's efforts to protect Flynn provide "strong evidence" of obstruction of justice. However, Jonathan Turley, a law professor at George Washington University, said that while Trump's dealings with Comey were inappropriate, "We do not indict people for being boorish or clueless."
Comey's statement came hours after two top intelligence officials told lawmakers they never felt "pressured" to do anything inappropriate by the president. But Director of National Intelligence Dan Coats and Adm. Mike Rogers, the director of the National Security Agency, angered members of the Senate intelligence committee by staunchly refusing to answer questions about conversations they had with Trump.
The ex-FBI director's testimony recounts his conversations with the apparent precision of a veteran lawman. Comey notes he had nine one-on-one interactions with Trump over a four-month stretch, compared to two private conversations with President Barack Obama between September 2013 and the end of 2016. He also says he did not keep written memos of his interactions with Obama.
The first meeting with Trump after the inauguration occurred on Jan. 27, during a private dinner at the White House that Comey came to view as an attempt by the president to "create some sort of patronage relationship."
According to Comey, Trump asked if he wanted to remain as FBI director and declared: "I need loyalty. I expect loyalty." Comey says he replied that he could offer his honesty, and that when Trump said he wanted "honest loyalty," Comey paused and said, "You will get that from me."
Comey also describes at length a Feb. 14 meeting in the Oval Office in which he believed Trump asked him to back off an investigation into Flynn.
"He then said, 'I hope you can see your way clear to letting this go, to letting Flynn go. He is a good guy. I hope you can let this go,'" Comey says, according to the prepared remarks. He said he believed the president was talking only about Flynn, not about the broader Russia probe.
White House spokeswoman Sarah Huckabee Sanders said she was unsure if the president read Comey's testimony after its release. Asked whether the president stood by earlier assertions that he had neither sought Comey's loyalty nor asked for the Flynn investigation to be dropped, she said: "I can't imagine the president not standing by his own statement."
Earlier Wednesday, Trump announced that he planned to nominate Christopher Wray, a former Justice Department official, as Comey's successor.
Trump allies have raised questions about Comey's credibility ahead of his testimony, noting that the FBI had to correct some of his remarks from his last appearance on Capitol Hill. They've also questioned why Comey did not raise his concerns about Trump publicly or resign.
Comey's prepared testimony does not full answer that question, though he does say he asked Attorney General Jeff Sessions to help prevent him having any direct communication with the president in the future.
Trump has repeatedly cast the Russia investigation as a "hoax" and denied having any improper ties to Moscow. According to Comey, Trump was acutely aware of the political toll of the investigation, complaining that the probe had left a "cloud" that was "impairing his ability to act on behalf of the country."
In a phone call on March 30, Comey says the president asked him what could be done to "lift the cloud." He says Trump also volunteered that "he had nothing to do with Russia, had not been involved with hookers in Russia, and had always assumed he was being recorded when in Russia" — referencing an unverified intelligence dossier detailing compromising information Moscow had allegedly collected on Trump.
The White House initially said Trump fired Comey on the recommendation of the Justice Department, citing as justification a memo from Deputy Attorney General Rod Rosenstein that criticized Comey's handling of the Hillary Clinton email investigation. But Trump later said he was thinking of "this Russia thing" when he fired Comey and would have dismissed him without the Justice Department's input.
___
Annotated testimony:
https://www.documentcloud.org/documents/3860401-Os-Jcomey-060817.html
___
AP writers Mark Sherman and Sam Hananel contributed to this report.
___
Follow Julie Pace at http://twitter.com/jpaceDC and Eric Tucker at http://twitter.com/etuckerAP