Court revelation: Pulse club gunman's dad was FBI informant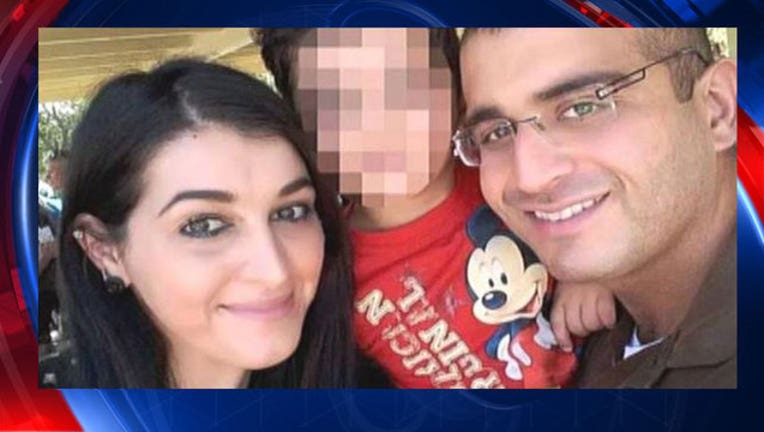 article
ORLANDO, Fla. (AP, KTVU) - The government has revealed only now that the Pulse nightclub shooter's father was an FBI informant for 11 years before the attack, lawyers for his widow, Noor Salman, said Monday.
Lawyers for Salman, a Bay Area native said prosecutors also told them in an email Saturday that the government found evidence on the day of the attack that Omar Mateen's father, Seddique Mateen, had been sending money to Afghanistan and Turkey, and that he had been accused of raising money to fund violence against the government of Pakistan.
Salman's lawyers say this new information - shared only after prosecutors rested their case - should result in a mistrial or an outright dismissal of the charges against her.
The 31-year-old widow is accused of helping her husband plan his June 2016 attack at the gay nightclub in Orlando, where he killed 49 people.
Salman was born in San Pablo, grew up in Rodeo, and in 2004 graduated from John Swett High School in Crockett.
She had wed once before in an arranged marriage that was organized in the Palestinian territories.
Her relationship with Mateen, a security guard from central Florida, began online, a neighbor said.
They were married in Hercules on Sept. 29, 2011. The couple have a 3-year-old son.
Her lawyers say the government's belated disclosure has prevented them from exploring the possibilities that Seddique Mateen was more directly involved, and that Salman may have been framed to hide the government's mistakes.
What is clear is that the federal government's failure to disclose these details is keeping her from getting a fair trial, her attorneys said.
The government's "violations in this case have placed Ms. Salman, the jury, and this Court in a dark wood where the search for truth has been thwarted," they wrote, paraphrasing and citing 15th Century Italian poet Dante Alighieri's The Divine Comedy.
Her lawyers' federal court motion filed Monday says U.S. Attorney Sara Sweeney sent them an email Saturday revealing some details of the FBI's involvement with and knowledge of Seddique Mateen's activities leading up to the Pulse attack.
"I have just received authorization to disclose the following information about Seddique Mateen," her email said. "Seddique Mateen was a FBI confidential human source at various points in time between January 2005 and June 2016."
This email was sent after jurors heard Shahla Mateen deny during cross-examination that her husband had any relationship with the FBI.
The email also revealed other details the prosecution didn't tell jurors before resting its case against Salman, including the discovery in the hours after the shooting that "receipts for money transfers to Turkey and Afghanistan" made in the days and weeks before the shooting were found at Seddique Mateen's home, and that in 2012, an anonymous tipster had accused Seddique Mateen of "seeking to raise $50,000 - $100,000 via a donation drive to contribute towards an attack against the government of Pakistan."
Defense attorneys say the failure to share this information in advance of her trial violates Salman's Fifth Amendment right to due process and Sixth Amendment right to a fair trial, because her defense would have investigated "whether Mateen's father was involved in or had foreknowledge of the Pulse attack," they wrote.
Prosecutors told the jury that Salman knew Omar Mateen was buying rounds of ammunition for his AR-15, helped him spend thousands of dollars before the attack and knew about his plan when he left their home in the hours before the shooting. They also say she lied, tried to mislead FBI agents and had knowledge of her husband's sick fascination with violent jihadist videos and terrorism.
But defense attorneys describe Salman as a simple woman with a low IQ, who was abused emotionally, mentally and physically by her husband. This latest evidence, they say, points instead to Mateen's father as a potential accomplice.
"There are two viable theories of defense that could have been developed . First, Omar Mateen conspired with his father, rather than Noor Salman, to commit the acts," the defense wrote.
"Alternatively, the FBI's purported interviews with Ms. Salman were directed to evading the negligence they exercised with their own informant," the motion says, and "to finding an additional culprit rather than their own informant."
Former federal prosecutor David S. Weinstein agreed that if the defense had this information about Mateen's father before trial, they could have planted doubt in the minds of jurors that Salman was ever involved. The defense began presenting its case on Monday, and at this point the judge will likely keep the trial going while he evaluates the motion, he said.
"The judge has to digest everything that's in there and give the government chance to respond. He doesn't want to lose days of trial," Weinstein told The Associated Press.
Ahmed Bedier, president of the civil rights advocacy group United Voices, has been attending the trial in support of Salman. He said Salman's family had suspected Seddique Mateen might have been working with the FBI, but they lacked evidence to support this. Bedier also noted that when Omar Mateen was interviewed by the FBI in 2013 and not charged with false statements or any other crime, it enabled him to legally secure the firearms he used in the Pulse attack.
"We always felt that there were huge problems with this case and suspicious motivations on behalf of the government to prosecute Noor on such little evidence. This new discovery is very revealing and raises a lot of questions about the FBI and the Department of Justice's actions in investigating the mass shooting," Bedier said.
"They chose to protect their own informant and their own connection to Omar Mateen," Bedier said. "The fact that Omar Mateen's father was an informant for 11 years, and the FBI interviewed Omar Mateen himself in 2013, there's suspicion now that it's because of this father that the government closed that case."
Salman was arrested in 2017 in the Bay Area, where she was staying with family. She is now being tried in federal court in Orlando.
It's unclear when the judge will rule on the motion to dismiss.
As for Seddique Mateen, the government had listed him as a potential witness in February, but did not make him testify before resting its case.
The wording of the Saturday email, cited by the defense in its motion, suggests the government still doesn't want him to talk too much in front of the jury: "If you should call S. Mateen to the stand, the government will not seek to elicit any of this information from him," Sweeney wrote.
A man who answered a Florida phone number for Seddique Mateen hung up after asking an AP reporter to identify himself.