Couture helps lift Sharks past Maple Leafs 4-1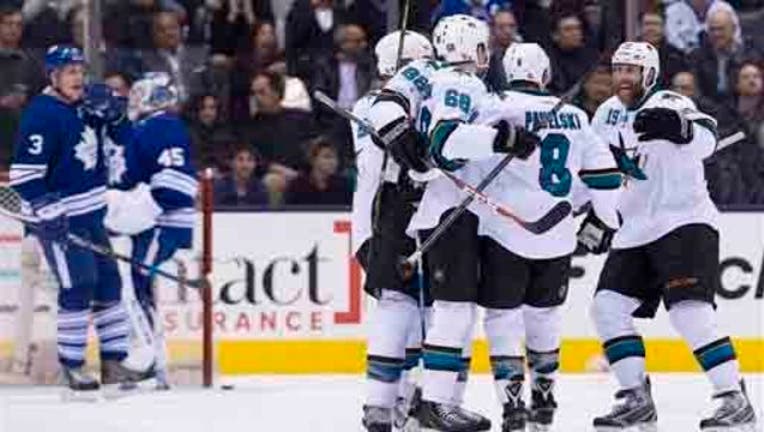 article
TORONTO (AP) — Logan Couture had a goal and an assist, helping the San Jose Sharks defeat the Toronto Maple Leafs 4-1 on Thursday night.
Couture's goal early in the second period was the eventual winner for San Jose, which ended a two-game skid. Tomas Hertl, Melker Karlsson and Tommy Wingels also scored for the Sharks, and Antti Niemi made 27 saves for the win.
Joe Thornton added two assists for San Jose.
Jake Gardiner was the lone scorer for Toronto, which has dropped four straight. Jonathan Bernier stopped 38 shots.
Hertl opened the scoring for the Sharks on a costly turnover by the Leafs. An errant pass went deep into the defensive zone thanks to a line-change mix-up. Chris Tierney beat defenseman Eric Brewer to the puck, skated behind the net and fed Hertl for the easy deflection past Bernier.
San Jose dominated play in the first, outshooting the Leafs 21-8.
Couture scored an impressive power-play goal to give the Sharks a 2-0 lead. Standing in front of Bernier's crease, he corralled a pass from Thornton, put it on his forehand and into the net while two Toronto defenders checked him.
Gardiner sent a wrist shot from near the blue-line past Niemi at the 8:54 mark of the second period to make it 2-1. Niemi was screened by a cluster of Sharks defenders trying to cover Richard Panik in the slot.
Thornton continued to dismantle the Leafs defense, feeding Karlsson from behind the net. Bernier stood no chance on the play, as Karlsson was completely uncovered.
Niemi made a spectacular blocker save near the midway point of the second, sliding from his left post to the center of the crease to knock away a shot from Andrew MacWilliam in the slot.
San Jose scored again with 6 seconds left in the second period as Matt Nieto lobbed a slow wrist shot from the faceoff circle that was deflected by Wingels over Bernier's left shoulder to make it 4-1.