Crawford 1st with 7 hits since '75, Giants win in 14 innings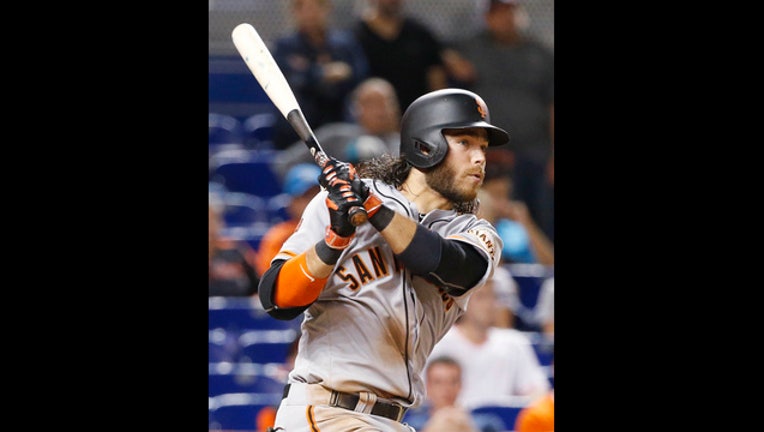 article
MIAMI (AP) — Brandon Crawford was a big hit Monday night. Seven of them, to be exact.
Crawford became the first major leaguer in 41 years to get seven hits in a game, finally putting the San Francisco Giants ahead to stay with an RBI single in the 14th inning of an 8-7 victory over the Miami Marlins.
"A great performance," said Giants bench coach Ron Wotus, who filled in as manager after Bruce Bochy was hospitalized with an illness.
"Bochy picked a heck of a day to take off."
The previous player to get seven hits in a game was Pittsburgh Pirates infielder Rennie Stennett on Sept. 16, 1975, at the Chicago Cubs. He did it in nine innings, the only big leaguer to accomplish that feat since before 1900.
"It doesn't happen very often that you get eight at-bats in a game so I figured it didn't happen a whole lot, but you don't think about stuff like that when you're playing," Crawford said.
The San Francisco shortstop, who entered in a 6-for-36 slide, raised his batting average 13 points to .278. He tripled, doubled and had five singles in eight at-bats, tying the NL record for hits in a game.
"I got a couple to drop in and squeak past and then I hit a few balls hard, too, that found holes," Crawford said. "I felt good."
The seven hits set a franchise mark.
"It's crazy to me," Crawford said. "The history of the Giants with all of the great players that have come through, you would think that somebody pushed across seven hits in one day, but it's pretty crazy to be in pretty small company."
Crawford's hits came off six different pitchers.
"What do you have to do to get that guy out? I don't know," Marlins manager Don Mattingly said. "We didn't figure it out today. He's a tough out right now and obviously, when you're getting seven hits, you're feeling pretty good about yourself. So I'm sure this whole series, it's not going to be fun trying to get him out."
The only major league player besides Stennett to get seven hits in a nine-inning game was Wilbert Robinson for the old Baltimore Orioles of the National League in 1892.
Johnny Burnett holds the major league mark for an extra-inning game with nine hits for Cleveland in a 1932 contest that lasted 18 innings.
George Kontos (3-2) pitched two scoreless innings to earn the victory.
"Relievers don't get measured on wins and losses for the most part, but to be out there in a game like that and be able to throw the final pitch and stamp my name on a win like that — it was just a gutsy, gritty game," Kontos said.
The Giants were without Bochy, admitted to a Miami hospital in the morning after feeling ill. He was to be monitored overnight and is expected back on the bench Tuesday night.
San Francisco went 6 for 21 with runners in scoring position and left 18 on base in a game that took 5 hours, 34 minutes — the longest of the season for both teams.
"Exhausting," Crawford said. "I'm tired right now."
Andrew Cashner, Miami's scheduled starter for Friday, entered in the top of the 14th to face Crawford with two on and he lined a single to center field that scored Brandon Belt for an 8-7 lead.
"I try to take every at-bat separate whether I'm 0 for 4 with four strikeouts or 6 for 7," Crawford said. "I was just trying to get the runner in any way I could."
Christian Yelich homered and tied a career high with four RBIs for the Marlins. Martin Prado also went deep and drove in two runs. They hit back-to-back homers in the fifth.
San Francisco threatened in the 13th when Crawford hit a one-out triple off Dustin McGowan (1-3). After the second out, Mattingly intentionally walked two batters to get to the pitcher's spot in the order.
The Giants were out of position players, leaving ace pitcher Madison Bumgarner, a .183 hitter with legitimate power, to pinch-hit with the bases loaded. He struck out to end the inning.
The Marlins took a 5-1 lead into the seventh behind a solid outing from Jose Fernandez, who allowed one run in six innings.
The Giants scored five times in the seventh off three relievers and started the inning with six consecutive hits on their way to a 6-5 lead.
Miami responded with Yelich's two-run single. Crawford's single in the eighth tied it at 7.
"We bounced back," Mattingly said. "They bounced back and from there it was crazy after that."
Giants starter Johnny Cueto allowed five runs in five innings.
WAY TO GO, ICHIRO
Marlins outfielder Ichiro Suzuki received a standing ovation before his pinch-hit appearance in the sixth after getting his 3,000th career hit Sunday in Colorado. Suzuki tipped his helmet in appreciation before grounding out in his only at-bat.
TRAINER'S ROOM
Giants: OF Hunter Pence fouled a ball off his eye on Saturday. He was given a day off Sunday and was back in the lineup Monday. "He's fine," Wotus said.
Marlins: 1B Justin Bour (ankle) has taken a break from his rehab stint, citing soreness, but could return to the big league club on this homestand, which ends Sunday. "We're hopeful, but it's probably a 50-50 thing," Mattingly said.
UP NEXT
Giants: LHP Matt Moore (7-7, 4.04 ERA overall) makes his second start with the Giants on Tuesday after being acquired in a trade with Tampa Bay.