Crawford homers but Giants drop fourth straight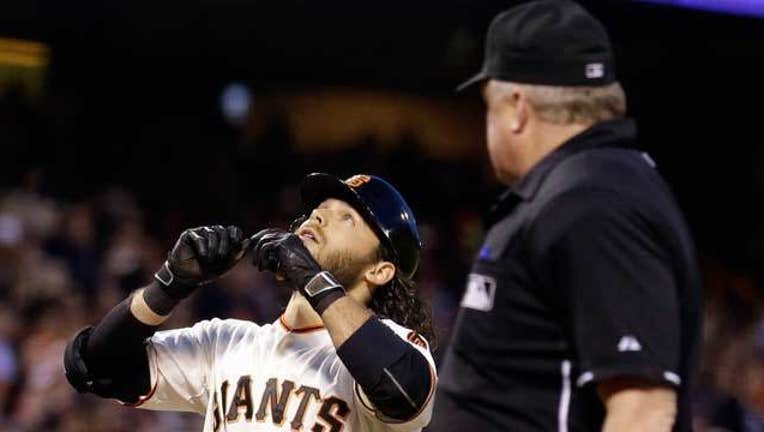 article
SAN FRANCISCO (AP) — A fourth straight loss at home didn't bother Giants manager Bruce Bochy as much as his ballclub's inability to get hits in key situations.
It's a problem that was an issue for San Francisco earlier this season and has once again become a stumbling block for the defending World Series champs.
Brandon Crawford homered but the rest of the Giants lineup mostly came up empty in a 7-4 loss to the Pittsburgh Pirates on Tuesday night.
"We needed a hit not too long ago and we got it," Bochy said. "Those two-out hits are hard to get. That's what wins ballgames, is getting those timely hit. We couldn't get it tonight."
The Giants got 11 hits off Pittsburgh starter A.J. Burnett and three relievers but went just 1-for-12 with runners in scoring position, continuing a recent troubling trend.
During the four-game losing streak — the Giants' longest since an eight-game skid in April — San Francisco is hitting just .129 (4-for-31) with runners in scoring position.
Pittsburgh, on the other hand, delivered in almost every big situation.
Andrew McCutchen had four hits and drove in two runs, Pedro Alvarez drove in a pair and the Pirates won for the 10th time in 12 games. Jody Mercer added his first home run of the season while Neil Walker drove in a run.
Most of the damage came off Giants starter Chris Heston (5-4). The rookie right-hander had a three-game winning streak snapped after giving up five runs on seven hits in 3 2-3 innings, his shortest outing at home and second shortest of the season. He walked two and struck out two.
"I just got away from attacking the zone," Heston said. "I'm giving up big innings. I just need to be able to slow myself down a little bit. Just take a step back, breathe a little bit and go back to attacking guys."
Even when the Giants did get a big hit, it didn't come easily.
Home plate umpire and crew chief Bill Miller initiated q 4 minute, 35 second review of Crawford's game-tying homer in the third inning. A fan appeared to reach over the railing to make the catch, though replays proved inconclusive.
Hunter Pence went 3-for-5 after getting three hits in his previous 27 at bats.
Burnett (6-1) struggled in his second straight start and still managed to win his sixth consecutive, allowing four runs and matching his season-high with eight hits. He walked two and struck out five in winning his first game at AT&T Park in nearly 10 years.
Mark Melancon pitched the ninth for his 15th save in 16 chances.
McCutchen finished a home run short of the cycle, though he improved to .398 (37-for-93) over his past 26 games, with 11 doubles, a triple, five homers, 21 RBIs and 17 runs scored.
"Good hitters, they get in that zone," Bochy said. "He got some mistakes tonight and took advantage of it."
Mercer hit his third home run in nine games in San Francisco. He's only hit more in Wrigley Field (20 games) and PNC Park, both five.
TRAINER'S ROOM:
Pirates: RHP prospect Jameson Taillon, recovering from Tommy John surgery, threw about 40 pitches at extended spring training, a step toward beginning a rehab assignment.
Giants: RHP Matt Cain (flexor tendon strain) is heading to extended spring training in Arizona to throw about 45 pitches, or three innings. "He's got to be excited about it," Giants manager Bruce Bochy said. "It's taken a lot of time to get to this point."
UP NEXT:
Pirates: LHP Francisco Liriano (2-4, 3.47) gets the start in series finale. He pitched six scoreless innings in his last start but received a no-decision. He has a 1.57 ERA in five road starts and 2-1 with a 4.76 ERA in three starts against the Giants.
Giants: RHP Tim Hudson (3-4, 4.62) starts against the Pirates on Wednesday, against whom he has a three-game losing streak. He last earned a win against the Pirates on April 29, 2012. Hudson went seven innings his last time out, allowing a run on five hits.