Curry breaks 3-point record, Warriors beat Blazers 116-105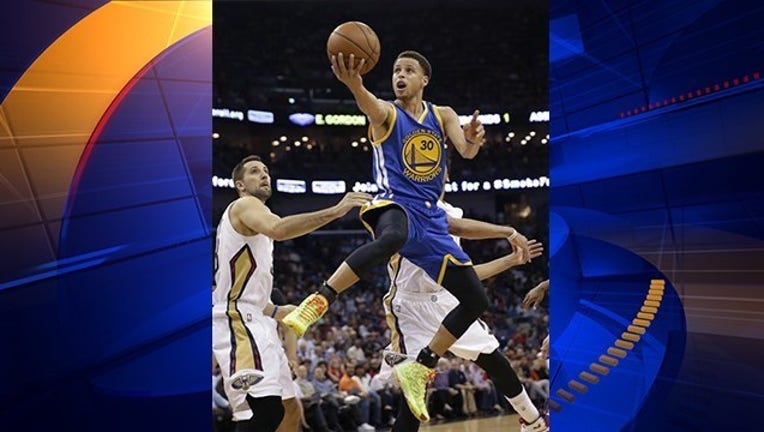 article
OAKLAND, Calif. (AP) — Stephen Curry eclipsed his own NBA record for most 3-pointers in a season, scoring 45 points to rally the Golden State Warriors to a 116-105 victory over the Portland Trail Blazers on Thursday night.
Curry entered the game four shy of his mark of 272 3-pointers, which he set two years ago in the season finale at Portland. He hit six before halftime and eight overall, teaming with fellow Splash Brothers star Klay Thompson to bring the Warriors back from 13 points down.
Curry added 10 assists, and Thompson scored 26 to help Golden State avoid its first three-game losing streak this season.
The Warriors (64-15), who have already secured home-court advantage throughout the playoffs because of a tiebreaker over East-leading Atlanta, clinched the NBA's best record.
LaMarcus Aldridge had 27 points and six rebounds, and Damian Lillard added 20 points and eight assists for the Blazers, who have already have locked up the Northwest Division. However, that doesn't guarantee they'll get home court in the first round — that's based on record — and Portland (51-28) fell two games behind the Los Angeles Clippers (53-26) in its chase for that.
Curry shined the spotlight on his MVP credentials through the night. He shot 17 of 23 from the floor, including 8 of 13 from 3-point range.
He came through in the biggest moments, too.
Curry lost Lillard on the perimeter with a nifty behind-the-back dribble late in the fourth quarter, threw up a 3 and ran down court as if he knew it would go in — and it did. Curry added another jumper and converted a reverse layup between a pair of Portland scores to put the Warriors up 102-97 with more than 3 minutes to play.
But Lillard and Aldridge kept bringing the Blazers back with an inside-out, two-man game that gave Golden State fits. Portland moved within a point before Golden State's All-Star duo put away the game.
Curry made three free throws, Thompson broke free for a layup and Curry delivered the dagger — crossing over Aldridge in the corner and hitting a step-back shot from 18 feet that gave Golden State a 111-103 lead with 1:11 left.
The Blazers never could keep up with Curry.
His shot started a big burst that lifted the Warriors ahead 57-54 at the half, with fans giving Curry a standing ovation as the Warriors recognized his milestone on the videoboards above center court. At one point, Curry even glanced up at the screens to see what all the fuss was about.
As usual, it was him.
TIP-INS
Trail Blazers: Aldridge had his 50th game with at least 20 points this season. ... Portland lost all three games against the Warriors this season.
Warriors: Reserve guard Leandro Barbosa sat out with a sore Achilles. ... The Warriors matched the 1966-67 Philadelphia 76ers for the biggest improvement for a 50-win team. Each team won 13 more games than the previous year. ... Golden State has won 15 consecutive home games. The Warriors are 36-2 at Oracle Arena this season, tying the franchise for home wins set by the defending champion Warriors in 1975-76.
UP NEXT
Trail Blazers: Host Utah on Saturday.
Warriors: Host Minnesota on Saturday