Curry: Bringing daughter to interview was a last-minute call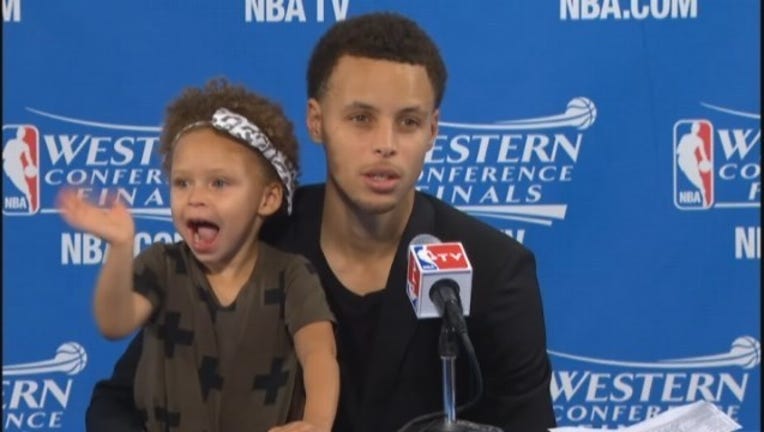 article
OAKLAND, Calif. (AP) — Stephen Curry knows he may no longer be the biggest star in his family. At least for one day, that title belonged to his 2-year-old daughter, Riley.
She stole the spotlight from the Golden State Warriors guard and NBA MVP during his news conference after Tuesday night's 110-106 victory over the Houston Rockets in Game 1 of the Western Conference finals.
Photos and videos of the moment began to trend on social media as fans let out a collective "awwww." But some on national television talk shows and Twitter debated if she was an unnecessary distraction as Curry took reporters' questions.
Curry didn't understand that, and described it as a spur-of-the-moment decision between dad and daughter.
"I didn't know how she was going to act because that's the first time I've ever brought her up there," Curry said Wednesday, a practice day for both teams. "Once she started laughing after the first question when she heard my voice in the microphone, I knew it was going to be downhill from there."
Riley waved to the cameras and interrupted Curry a couple of times while sitting on his lap. At one point, she muttered a few words and Curry asked her to "hold on a second, OK?" She replied, "Be quiet," drawing laughs from the room.
Later, Riley crawled under the table, lifted up the skirt and waved to reporters. Curry tried to grab her from underneath the table before she walked around the room.
Curry admitted he was a little nervous as she began to take over while he tried to keep his composure and answer questions about his big performance — 34 points, six rebounds and five assists.
"I thought she was going to fall off the stage once she started going underneath the table," Curry said. "I'm trying to answer questions to feel around to make sure she's kind of within arm's reach. My family was in the family room down the corner, and they were just watching the whole thing dying laughing."
Curry said he decided to bring Riley with him as he left the locker room and saw her and his pregnant wife, Ayesha, on the way to the news conference.
"I said hello to them after the game and I told them I had to do media so I'll be right back, and I think (Ayesha) had asked Riley if she wanted to go with me," Curry said. "Riley had told her yes before I even got around the corner, and I'm like, 'No, I'll just go do it real quick.' And Riley gave me the look like, 'I'm going with you.' She wasn't taking no for an answer at that point."
Curry said his daughter enjoyed the spotlight, even though she played it cool.
"When we got home, I asked her if she had fun. She said no, so I guess she was keeping up the act," he said.
It's hardly the first time an athlete has brought their child to an on-camera interview. In the NBA alone, there have been several memorable moments, such as when Chris Paul's son, also named Chris, tried to impersonate Blake Griffin's facial expressions while the Clippers duo sat together.
And it's not like Curry was trying to shield himself in a difficult moment. He had just rallied the Warriors from 16 points down for a series-opening win.
Curry said he's unsure if he'll bring Riley back to a postgame news conference anytime soon. But he said it was a fun moment and reminded him of his days following around his father, former NBA player Dell Curry.
"It's special for sure," Curry said. "When you're a kid, you go to school and all your friends are asking you what it's like.
"...I didn't take it for granted even when I was a kid. My dad did a good job of making sure I kept it in my perspective of that it's a privilege for you to be able to just walk up to Muggsy Bogues and have him pick you up and fly you around like an airplane, go talk to Larry Johnson and Alonzo Mourning and those guys, just to be able to walk past the security guards right into the locker room. I'll never forget that."