Curry, Thompson lead Warriors in rout over Grizzlies - tying franchise record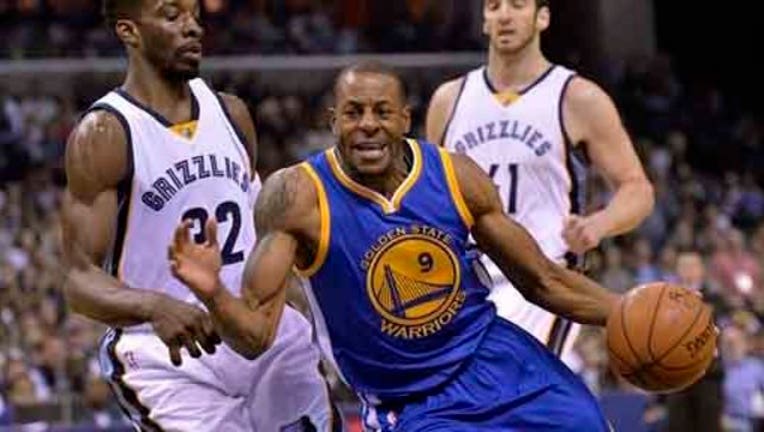 article
MEMPHIS, Tenn. (AP) — Stephen Curry had 38 points and 10 assists, leading the Golden State Warriors to their 59th win — tying a franchise record — 107-84 over the Memphis Grizzlies on Friday night.
Klay Thompson finished with 28 points and Draymond Green added 10 as the Warriors (59-13) won their eighth straight, solidifying their hold on the top spot in the Western Conference.
Curry and Thompson were a combined 22 of 39 from the field and converted 14 of 21 from outside the arc. Golden State made 16 of 31 from 3-point range.
Mike Conley and Jeff Green led Memphis with 16 points each, while Marc Gasol scored 13 points. Zach Randolph finished with 10 points.
The lopsided loss was the second straight for the Grizzlies where a top-shelf opponent ran away for a big victory. Memphis lost to Cleveland 111-88 on Wednesday night.
The 3-point shooting was only one aspect of the Warriors' domination. They had a 43-30 advantage on the boards, including 14 offensive rebounds. Golden State turned 19 Memphis turnovers into 32 points.
The Warriors basically took over the game in the third and were only slightly threatened the rest of the way.
Curry came out hot in the third, scoring 17 points, converting 6 of 9 shots, including 4 of 6 from outside the arc.
That helped the Warriors extend the lead to as many as 22 as Golden State outscored Memphis 31-16 in the quarter, carrying an 85-65 lead into the fourth.
Soon after, Memphis' frustration boiled over when Gasol slammed the ball against the basket support and drew a technical foul.
Memphis used an 8-0 run early in the fourth to make it interesting for the home crowd. But Curry re-entered near the midway point of the quarter and promptly converted a 3-pointer and was fouled on his next 3-point attempt. After making all three free throws, the Warriors lead was back to 20, and the Memphis faithful headed for the exits.
Memphis forced turnovers at times in the first half, but missed shots on the ensuing break, and had trouble converting in the paint. That contributed to Memphis missing its first seven shots in the second period, helping the Warriors build 14-point lead.
The Grizzlies were able to pull close with a 16-3 run during the middle stages of the second, but Golden State carried a 54-49 lead into the break behind the guard play of Curry who had 15 points and Thompson's 14. The pair was a combined 5 of 8 from 3-point range, part of the Warriors shooting 50 percent from beyond the arc.
Conley had 16 for Memphis.