DA announces dismissal of misdemeanor charge in case of 49ers' Reuben Foster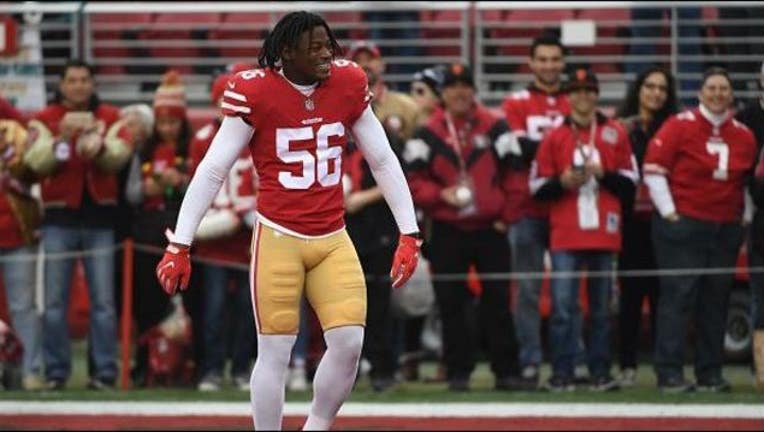 article
OAKLAND, Calif. (BCN) - The Santa Clara County District Attorney's Office announced today that a misdemeanor ammunition charge filed against San Francisco 49ers linebacker Reuben Foster has been dropped in light of a recent federal court injunction in San Diego blocking a law banning large capacity gun magazines.
Prosecutors originally charged Foster on Thursday with misdemeanor possession of a large capacity magazine, as well as domestic violence with an allegation that he inflicted great bodily injury, forcefully attempting to prevent a victim from reporting a crime and possession of an assault weapon, all felonies.
The charges came in the wake of an alleged domestic violence incident in which the 24-year-old NFL player attacked his 28-year-old girlfriend on Feb. 11 during an argument in their Los Gatos home.
Foster's attack left his girlfriend bruised and ruptured one of her eardrums, prosecutors said.
The girlfriend flagged down a stranger's car driving on Shannon Road in order to call 911. The victim told responding county sheriff's deputies and Los Gatos police that Foster had dragged her out by her hair, threw her out of the house and punched her in the head eight to 10 times, according to the district attorney's office.
The victim went to a hospital to be treated for her injuries and was released afterward, prosecutors said.
Foster was taken into custody that day but was released on a $75,000 bond.
When the couple's home was searched, police found a Sig Sauer 516, an assault rifle, along with its large capacity magazine.
Foster was arraigned on Thursday and was issued a no-contact order by Santa Clara Superior Court Judge Nona Klippen for the girlfriend.
The district attorney's office cited the injunction issued last June by a U.S. District Court judge as the reason to drop the misdemeanor charge regarding the large capacity magazine. The injunction is pending review by the 9th U.S. Circuit Court of Appeals.
The charges will be adjusted for Foster's next court date, scheduled for April 30 at the Santa Clara County Hall of Justice in San Jose.