Pittsburgh Steelers pay tribute to Damar Hamlin, deliver toys in his hometown
PITTSBURGH, Penn. - Steelers players showed their love and support for Pittsburgh native Damar Hamlin in an extra special way this weekend.
Players delivered toys, books and teaching supplies to Kelly & Nina's Daycare, where the Buffalo Bills safety hosts an annual toy drive. Hamlin adopted the McKees Rocks, Pa. daycare center in his hometown as his pet project when he played at the University of Pittsburgh, according to the Steelers.
"It's just a way that we can give back," said cornerback Levi Wallace, who played with Hamlin in Buffalo in 2021. "Just to be able to give back to kids that he works with and his community he loves so much. We're doing it just to honor him and show our love for him that we're supporting him here in Pittsburgh.
"Just hearing the great news that he's doing better, I think comes just from a grateful place. I've seen how hard he works on and off the field and so anything that I could do here in Pittsburgh, I'm here to do."
Hamlin's charity, Chasing M's Foundation, has raised more than $8.2 million as of Saturday afternoon. The millions of dollars in donations have poured in after Hamlin suffered cardiac arrest during Monday night's football game and collapsed on the field.
The game was initially suspended before officially being canceled later in the week.
Hamlin has made remarkable progress since Monday, though he remains in critical condition at a hospital in Cincinnati. He continues to breathe on his own, and he took a major step forward in his recovery Friday when he was taken off a ventilator and showed an ability to speak.
The 24-year-old made a brief live videoconference appearance Friday for his teammates, making several hand signs and saying, "Love you boys."
On Saturday, he posted an Instagram and Twitter message. He posted again on Instagram Sunday. 
"When you put real love out into the world it comes back to you 3x's as much," he wrote. "The Love has been overwhelming, but I'm thankful for every single person that prayed for me and reached out. We brung the world back together behind this. If you know me you know this only gone make me stronger. On a long road keep praying for me."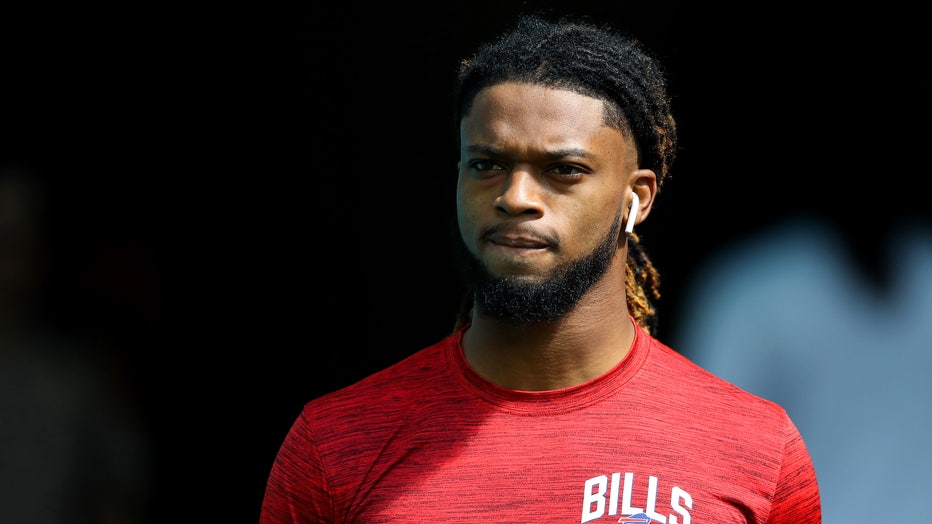 Damar Hamlin #3 of the Buffalo Bills looks on prior to a game against the Miami Dolphins at Hard Rock Stadium on September 25, 2022 in Miami Gardens, Florida. (Photo by Megan Briggs/Getty Images)
The Bills are planning to pay tribute to Hamlin and the first-responders and medical staff who treated the player when they close the season Sunday by hosting the New England Patriots.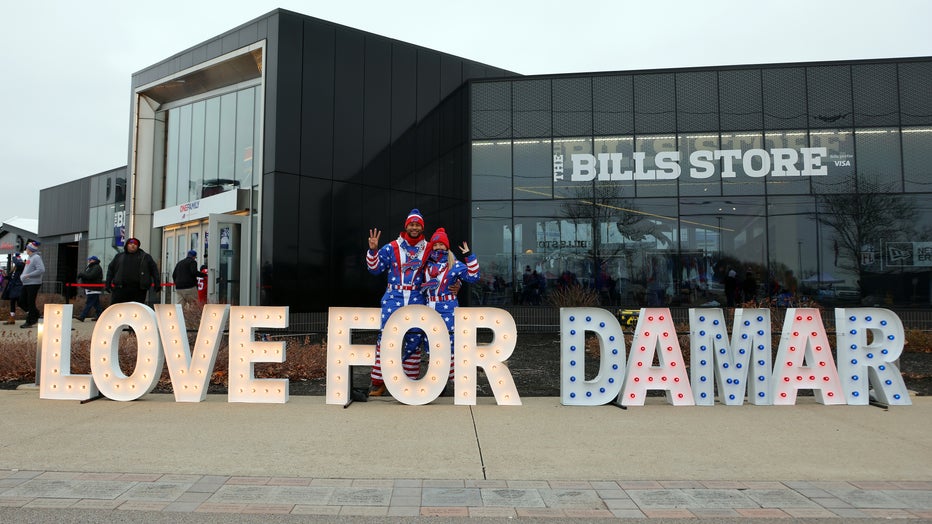 Fans pose with a sign erected in front of the stadium for Damar Hamlin #3 prior to the game between the New England Patriots and the Buffalo Bills at Highmark Stadium on January 08, 2023 in Orchard Park, New York. (Photo by Timothy T Ludwig/Getty Ima
The NFL also will show support for Hamlin during all Week 18 games, which start Saturday afternoon, including a pregame moment of support, painting Hamlin's No. 3 on the 30-yard line and pregame shirts with "Love for Damar 3." The Bills will also wear "3" jersey patches.
FOX's Chris Williams, Megan Ziegler and the Associated Press contributed to this report.