Deadly Mission District fire caused $8.6 million in damage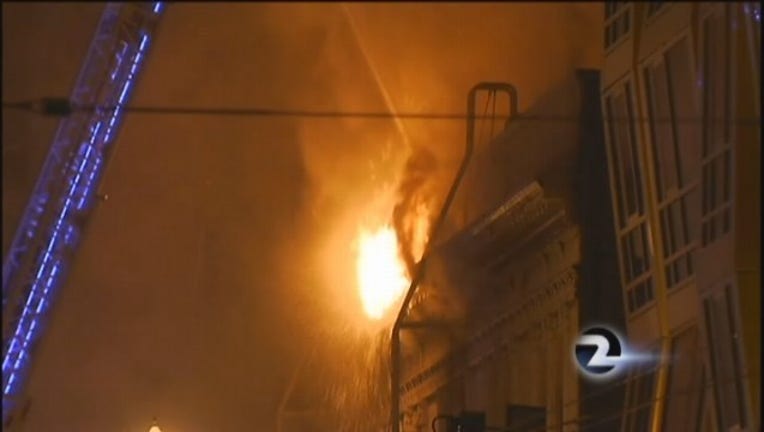 article
SAN FRANCISCO (BCN) - A four-alarm fire that killed a 40-year-old man and injured six other people last week resulted in more than $8.6 million in damage at three buildings in San Francisco's Mission District, a fire spokeswoman said Tuesday.
San Francisco resident Mauricio Orellana was the only person who died in the fire at 22nd and Mission streets last Wednesday evening, according to the medical examiner's office.
San Francisco fire spokeswoman Mindy Talmadge said the property where Orellana died was the one most impacted by the fire and consisted of more than 40 apartments, offices and businesses.
The fire was reported around 6:45 p.m. Wednesday and first responders arrived at the building to find flames shooting from its side.
Six people were transported to the hospital from the fire, including a firefighter who suffered dehydration and five civilians who suffered minor to moderate injuries, fire officials said.
Orellana was taken from the building and emergency crews rendered aid, but he ultimately died at the scene, police said.
Talmadge said the building was all but completely destroyed. The building sustained an estimated $4.5 million in damage along with $4 million in damage to its contents.
She said the first two floors of the three-story building contained businesses and offices while the entire top floor contained apartments.
While the cause of the fire remains under investigation and could take weeks to determine, police and fire officials said that it does not appear foul play or arson played a factor in the fire.
However, fire officials said investigators are looking into reports from residents that fire escapes were blocked and fire alarms in the building malfunctioned, complicating evacuations.
Two neighboring buildings also sustained minor damage in the blaze. One building in the 2500 block of Mission Street sustained about $100,000 in water damage while another building in the 3200 block of 22nd Street sustained about $15,000 in minor structural damage, according to Talmadge.
At least 40 residents of the building stayed at an American Red Cross shelter on the City College of San Francisco campus at 22nd and Bartlett streets following the fire, according to police. Orellana's niece, Sandra Orellana, created a memorial page on
GoFundMe.com to raise money for her uncle's funeral and burial, saying her family was having difficulty affording the expenses.
"He was so young no one could have expected this," she wrote on the online fundraising site.