Deceased woman found in submerged car, Sonoma sheriff says
FORESTVILLE, Calif. - The body of a 43-year-old woman was found in a car submerged in floodwaters in Forestville on Wednesday morning, the Sonoma County sheriff's office said. 
The victim, identified as Daphne Fontino of Ukiah, Calif., had apparently made an emergency call to say her car was filling with water on Tuesday, the sheriff said in a statement. 
Emergency responders were unable to find the vehicle and had to call off the search because of dangerous conditions yesterday. Crews returned Wednesday morning and found a vehicle in 8-10 feet of water about 100 yards from Trenton-Healdsburg Road, according to authorities.
"We were not able to find her. So, dispatchers tried multiple times to call her back, and they weren't able to make a connection. We continued searching for her through sunset. Once it got dark it became too dangerous to continue searching for her," said Misti Wood, spokesperson for Sonoma County Sheriff's Office.
A deputy dove into the water and saw that there was a person's body in the car. 
"…about 7:45 a.m., we were able to find the car…it's our assumption at this point that the floodwaters were moving so fast, and they were so deep that they swept her car away, with her sadly in it…we are conducting the death investigation to determine the cause of the manner of death," said Wood.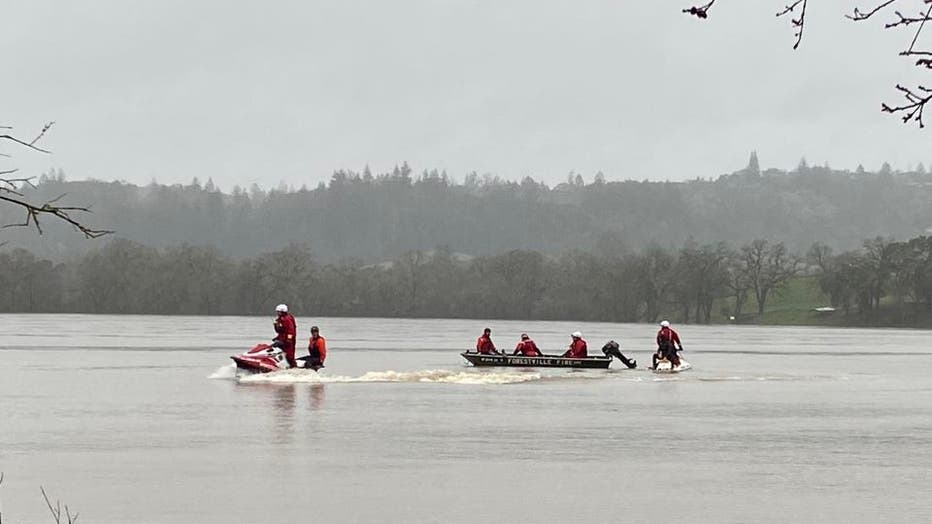 Emergency workers in Forestville found a car with a woman's body inside that was 100 yards from the road in water up to 10 feet deep.  (KTVU FOX 2)
"The Sheriff's Office sends our condolences to [the] victim's family and friends during this challenging time," the sheriff said in a statement.
The unrelenting storms have caused widespread damage in California. Gov. Gavin Newsom had said on Tuesday that 17 deaths were attributed to the storm.