Defense grills key witnesses immigration status in 3 jail guards' murder trial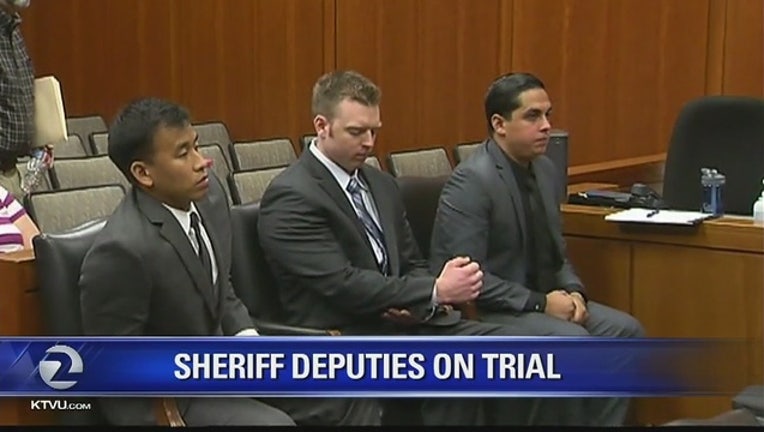 article
SAN JOSE (BCN) Defense attorneys for the three Santa Clara County correctional deputies charged with the 2015 murder of bipolar inmate Michael Tyree grilled a former inmate witness for hours in a San Jose courtroom today.
Prosecutors allege that Jereh Lubrin, 30, Rafael Rodriguez, 28, and Matthew Farris, 28, beat 31-year-old Tyree to death in his cell on Aug. 26, 2015.
Former gang member Juan Carlos Ortega Perez, 33, answered questions about his immigration status today, including about whether one of his documents is fraudulent.
Perez was released after serving 11 years of his more than 23-year sentence for assault with a deadly weapon, possession of firearms and ammunition, money laundering and threatening or intimidating a witness.
A prosecutor in a separate, gang-related capital murder case that Perez is testifying in sent a letter to the Department of Homeland Security requesting that his deportation hearing be delayed.
Perez, who was brought to the U.S. from Guatemala as a young boy and now lives in the area with his wife and three U.S.-born children, is working legally, he said today.
"We think we will be able to show that he's lying," Matthew Pavone, who represents Rodriguez, said when Perez and the jury were out of the room.
Judith Odbert, who represents Lubrin, argued that if Perez is committing another felony by working without the proper visa, his credibility as a witness is diminished.
"He hasn't been convicted of this," prosecutor Matthew Braker said, responding that it was not the time to hold a "small trial" over Perez's immigration status.
Braker argued that working illegally is not a "moral turpitude" crime. Judge David Cena disagreed, but pointed out that proof that Perez is using fake documents had not been presented.
The defense also said that they had received confirmation from a man in San Diego using the same social security number as Perez.
Perez also requested to have his wife's conviction of disturbing the peace expunged from her record and for his family to be relocated by the federal Witness Protection Program.
But Cena precluded the defense from asking Perez about his request to have his wife's record expunged. "It's fraught with problems," the judge said.
When Perez and the jury were brought back into court, Perez told Pavone that he had no knowledge of the information on his social security card being false and had not examined his own visa.
Perez also insisted that he was not under the impression that testifying in either murder case would help him remain in the U.S.
"I asked to get deported. I signed to get deported," Perez said.
The defense has argued that if Perez believes he will remain in the country based on his testimony, his testimony, which has been damning of the defendants, loses credibility.
The trial is set to resume on Tuesday morning.