Democrats eye Trump's tax returns but expect a long fight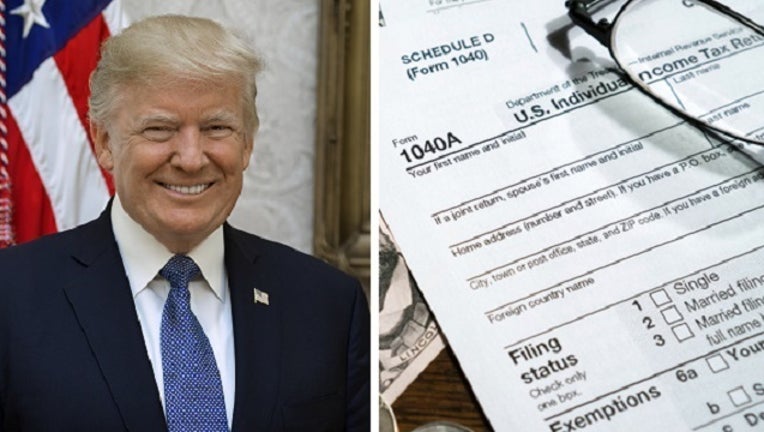 article
WASHINGTON (AP) -- Getting President Donald Trump's tax returns is high on the list of Democratic priorities now that they have won the House. 
By law, the leaders of tax-writing committees in the House and Senate can obtain tax returns and related information from the Internal Revenue Service. Democrats will control the House panel next year. 
Yet there's no guarantee that the Trump administration will provide the president's returns. That sets up the possibility of a legal battle over the request that could take years to resolve. 
Trump broke with political tradition in 2016 by refusing to release his income tax filings. He says he won't release them because he's under audit, and he claimed at a press conference this week that the filings are too complex for people to understand. 
The Democrats tried and failed several times to obtain Trump's returns as the minority party in Congress. Now, having gained some control, they see them within their grasp.
MORE: GOP keeps Senate control for 2 more years, triumph for Trump | Democrats retake the House, setting up divided government
Eyes are on Rep. Richard Neal of Massachusetts, who is now the senior Democrat on the powerful Ways and Means Committee and will become its chairman in January. 
When asked Wednesday whether the committee under his control would ask for the documents, Neal said, "Yes, I think we will." 
If the Trump administration refuses and mounts a legal challenge, Neal said, "Then I assume that there would be a court case that would go on for a period of time." 
A legal fight could potentially even stretch beyond the 2020 presidential election, suggested Andy Grewal, a professor at the University of Iowa College of Law. 
Grewal has maintained that a request for Trump's returns, if made for "purely political purposes," may exceed the limits of Congress' authority. 
Starting with the 2016 campaign, Trump broke with political tradition by repeatedly refusing to release his income tax filings. Those filings are deemed sacredly secret for citizens, but traditionally not for presidents. Trump has said he hasn't released them because his taxes are under audit by the IRS -- even though experts and IRS officials say such audits don't bar taxpayers from releasing their returns. 
Asked about releasing his filings, Trump reaffirmed that justification during a post-election news conference Wednesday. "They're under audit. They have been for a long time," the president said. "They're extremely complex. People wouldn't understand them." 
Giving a slight opening, Trump said that if the audit was completed, "I would have an open mind to it. I would say that." But, he added, "Nobody turns over a return when it's under audit." 
In 2017, more than a million people signed a petition to the White House urging Trump to make the returns public. 
Questions loom: Was the swaggering longtime businessman and real estate mogul really worth $10 billion when he entered the White House, as he has claimed? Are there conflicts of interest lurking? How has his global panoply of properties and other assets been valued for taxation purposes? What are the sources of his income and to whom might he be beholden as a result? Does Trump stand to gain personally from the sweeping Republican tax law enacted late last year, which he championed, and, if so, how specifically? 
Among the sought-after details: Trump's charitable giving, the type of deductions he claimed, how much he earned from his assets and what strategies he deployed to reduce his tax bill. 
House Democratic leader Nancy Pelosi declined during a press conference Wednesday to specifically address the question of Trump's returns, saying only that Congress has "a constitutional responsibility to have oversight" and citing examples such as the government's environmental policy that would be ripe for Congress to investigate. 
The high interest -- Democrats would say the urgency -- in lifting the veil on Trump's taxes ramped up last month when The New York Times published an extensive report suggesting that the Trump family cheated the IRS for decades, undervaluing reported assets and using dubious tax maneuvers and outright fraud in some cases. 
A lawyer for Trump disputed the Times' findings of possible tax fraud or evasion and said that parts of the report were "extremely inaccurate." The newspaper said its report was based on more than 100,000 pages of financial documents, including confidential tax returns from Trump's father and his companies. 
That could spur the Democrats on the Ways and Means Committee to ask for Trump's returns going back many years. 
By law, the chairmen of the House panel, the Senate Finance Committee and the Joint Committee on Taxation can make a written request for any tax returns to the Treasury Secretary, who oversees the IRS. The law says the Treasury chief "shall furnish" the requested information to the members of the committee for them to examine behind closed doors. 
The IRS, with custody of Trump's returns, has been headed since Oct. 1 by a commissioner who worked as a private tax attorney for nearly four decades representing individuals and companies in cases before the agency. During the 2016 campaign, the commissioner, Charles Rettig, defended Trump's refusal to release his filings. He promised at his Senate confirmation hearing to uphold the IRS' political independence from the White House. 
Treasury Secretary Steven Mnuchin "will review any request with the Treasury general counsel for legality," the department said in a statement Thursday. 
Trump's attorney Rudy Giuliani has said the Democrats could have a hard time proving their demand was intended for pursuing legitimate congressional oversight, not a political scavenger hunt. 
If the administration refuses to hand over the returns, the Democrat-led committee might punch back with subpoenas, move to hold officials in contempt of Congress or sue the administration. There's no roadmap or historical precedent for the situation. 
Some observers anticipate that the Trump Justice Department would file a lawsuit against the House to block release of the returns. In that case, the administration might try to prove that the Democrats' demand was politically motivated, as Giuliani indicated. 
The University of Iowa's Grewal is among the experts who believe the administration may seek to make that case. 
But Joe Thorndike, director of the tax history project at publisher Tax Analysts, says he doubts that argument could succeed. "It's not unreasonable for a member of Congress to be concerned about the president's tax returns," he said. 
George Yin, a professor of law and taxation at the University of Virginia who formerly was chief of staff for the Joint Committee on Taxation, asserts that Congress has the clear right to obtain and release a president's tax returns to the public without his or her consent -- provided the disclosure would be in the public interest. 
Not so fast, says Ken Kies, another former chief of staff for the joint tax panel, who's now a tax lobbyist. "I'd be really uncomfortable about that," he said. 
The federal tax code authorizes the lawmakers who obtain tax returns to file a detailed report on them to the full U.S. House, which essentially would put the information into the public domain. But lawmakers and committee staff could be subject to criminal penalties, including prison sentences, for unauthorized disclosure of tax material. 
"I would never take possession of those tax returns if I were (Neal)," said Janice Mays, a former chief counsel and staff director for the Ways and Means Committee who is managing director of tax policy services at consulting firm PwC. "I would visit the IRS and inspect them there."
---
RELATED: