Deputies search lake for missing California boy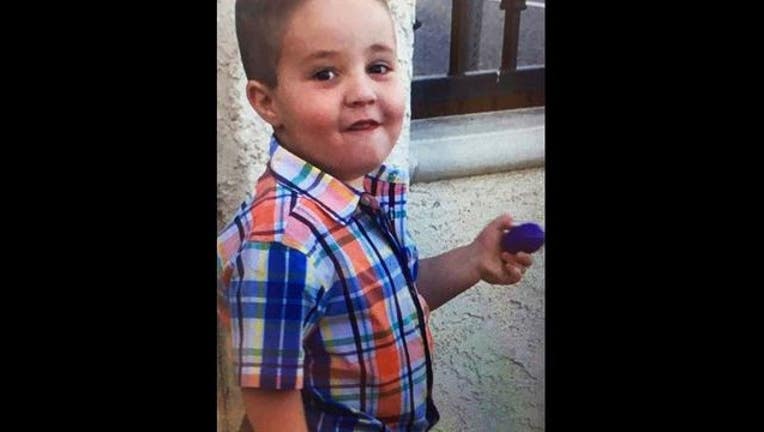 article
LOS ANGELES (AP) - Homicide detectives and police divers were searching a lake in Santa Barbara County on Tuesday for a missing 5-year-old boy whose father was arrested after being found unconscious over the weekend at a Southern California park.
Canine units and a sheriff's dive team began searching Cachuma Lake early Tuesday morning, Los Angeles County sheriff's Lt. Joe Mendoza said. Investigators are looking for any evidence that can point deputies to the boy's whereabouts or witnesses who may have seen the father or son, he said.
Authorities have been searching for Aramazd Andressian Jr. since his father was found unconscious at a park in South Pasadena on Saturday. Investigators don't know why the man was unconscious, but have said there is no evidence he was attacked.
The car of Aramazd Andressian Sr. was spotted early Friday morning in Orange County, but investigators believe he drove to Cachuma Lake in Santa Barbara County - about 120 miles (193 kilometers) northwest of Los Angeles -and spent the day there, possibly with his son, Mendoza said.
Detectives have been unable to piece together a timeline of what occurred after Andressian left the lake Friday until when he was found unconscious in the South Pasadena Park on Saturday. So far, investigators have been unable to identify precisely when the child went missing.
The boy was last seen April 18 during a video chat with his mother.
South Pasadena Police Chief Art Miller said investigators were having a difficult time getting answers from the boy's father. He was arrested Saturday on suspicion of child endangerment and child abduction and was being held on $10 million bail. It wasn't immediately clear if he has an attorney who could comment on the allegations.
The boy's mother was scheduled to have another video chat with her son on April 20, but that never happened, Miller said. Police began investigating after the mother reported that her estranged husband had failed to drop the boy off at a pre-arranged meeting place Saturday. The parents are divorcing and share custody.
___
Follow Michael Balsamo on Twitter at http://twitter.com/MikeBalsamo1.