Dirt bike riders prompt neighborhood complaints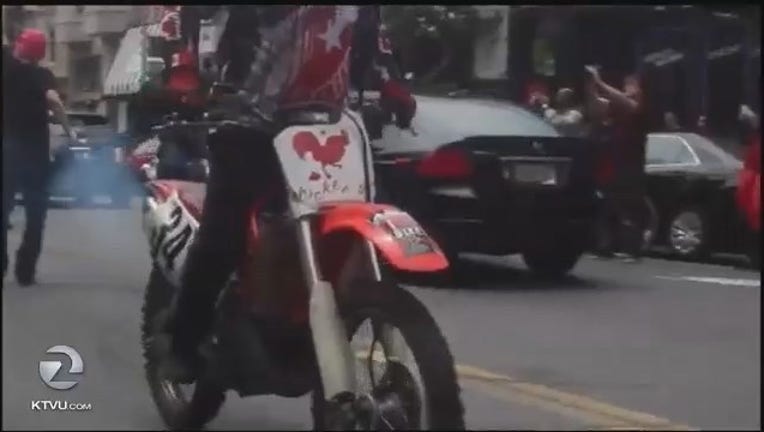 article
SAN FRANCISCO (KTVU) - Dirt bike riders have brought their underground sport to several San Francisco neighborhoods.
Police tell KTVU that the bike gangs are frequently taking over streets with complaints from residents pouring in.
"They're driving through traffic. They will often drive on the sidewalk. They will drive near officers," said SPFD Captain John Sanford. "They're just creating a very, very hazardous situation."
KTVU was with Captain Sanford at the corner of Haight and Schrader around 6 Tuesday evening, when he heard the roar of the bikes.
At least ten riders raced down Haight Street, wheels up. This was the fourth time the group blasted throughout The Haight in a week. All of them got away.
KTVU has learned police are ordered not to chase the bikers, just as they would with any other minor traffic violation.
"Somebody will end up dead," said Captain Sanford. "Chasing them through the street just puts too many people in danger and we're not going to take that risk."
Instead, the department will turn to other investigative techniques, such as reviewing the videos where the riders proudly flaunt their illegal activity.
"Rather than physically chase them and get them at the moment," Chief Greg Suhr said. "We're going to have to do some good investigation and get them at a later date when it's safe to do so."
Chief Suhr told KTVU at meeting Tuesday; several district captains expressed frustration with the frequency of the noisy and dangerous antics.
The bikers can outmaneuver any car and do whatever they can to get away and so far it's worked.