Dodgers hit 4 HRs off Vogelsong in 7-3 win over Giants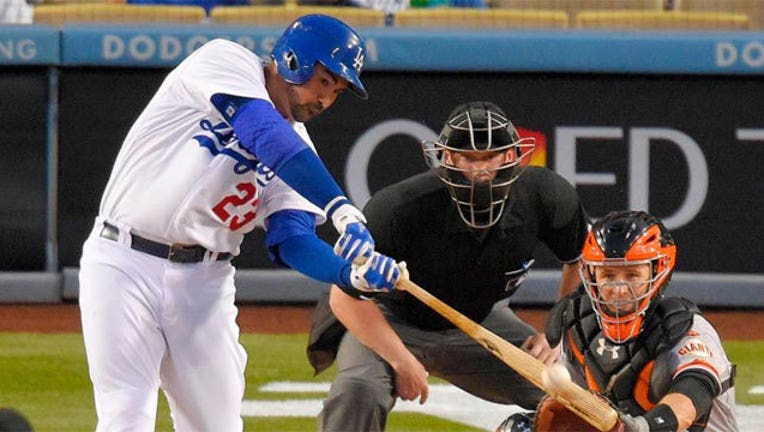 article
LOS ANGELES (AP) -- Joc Pederson, Adrian Gonzalez and Andre Ethier homered off Ryan Vogelsong in the first inning and Jimmy Rollins hit another one off him in the third, powering the Los Angeles Dodgers to a 7-3 victory over the San Francisco Giants on Wednesday night.
Zack Greinke (4-0) allowed three runs and seven hits with six strikeouts. The 2009 AL Cy Young Award winner is 22-1 with a 1.95 ERA in 32 career starts against NL West teams since signing a six-year, $147 million contract with the Dodgers in December 2012. Greinke is 6-0 with a 2.28 ERA in eight starts against the Giants.
Vogelsong (0-2) threw 55 pitches over three innings, giving up six runs and five hits in his third start this season after replacing injured Jake Peavy in the rotation. It was the second time in 146 major-league starts that he surrendered four homers in a game. He did it on Sept. 3, 2014, in a 9-2 loss to the Colorado Rockies at Coors Field.
Dodgers manager Don Mattingly shuffled his lineup considerably - flip-flopping No. 3 and 4 hitters Gonzalez and Howie Kendrick, dropping the struggling Yasmani Grandal from fifth to seventh, moving Pederson from eighth to the leadoff spot for the first time and shifting the slumping Rollins to the 2 hole.
Mattingly, trying to compensate for injuries to injured corner outfielders Yasiel Puig and Carl Crawford, got more than he bargained for as the Dodgers erupted for four runs on Vogelsong's first 16 pitches with four homers from their first 11 batters.
Pederson drove the right-hander's second pitch of the game to right-center for his fourth homer, Gonzalez hit his eighth of the season two outs later, and Ethier hit a first-pitch homer to right after a walk to Scott Van Slyke.
Rollins, who hit 46 first-inning leadoff homers in 15 seasons with the Philadelphia Phillies before joining the Dodgers in a trade on Dec. 19, led off the third with his second homer of the season and first since his tiebreaking three-run shot off San Diego's Shawn Kelley in the eighth inning of a 6-3 victory on Opening Day.
The defending World Series champions, playing the last of 22 consecutive games against division rivals, cut the Dodgers' lead to 6-3 in the fourth with Brandon Crawford's two-run homer after a leadoff double by Casey McGehee. But Greinke got back one of the runs in the bottom half with a sacrifice fly.
Ethier, a Gold Glove winner in 2011, made the defensive play of the game in the second inning with a diving grab in right-center that robbed Joe Panik of extra bases. Pederson, the Dodgers' rookie center fielder, took a terrible route to pinch-hitter Joaquin Arias' fly ball to right-center and had to make a diving catch at the last instant.
UP NEXT
Giants: Chris Heston (2-2) will go against the Angels' C.J. Wilson on Friday night in the opener of 10-game homestand. Heston's first two major league appearances came against the Dodgers last September in relief. This will be his sixth start since then.
Dodgers: RHP Carlos Frias (1-0) will come out of the bullpen to make his first start of the season Friday night against Arizona in place of Brandon McCarthy, who is out for the rest of the campaign because of a torn ligament in his right elbow. Frias, who started two games last season, will be opposed by former Dodgers RHP Rubby De La Rosa.