Trees and power lines 'falling left and right' wreak havoc on Bay Area roadways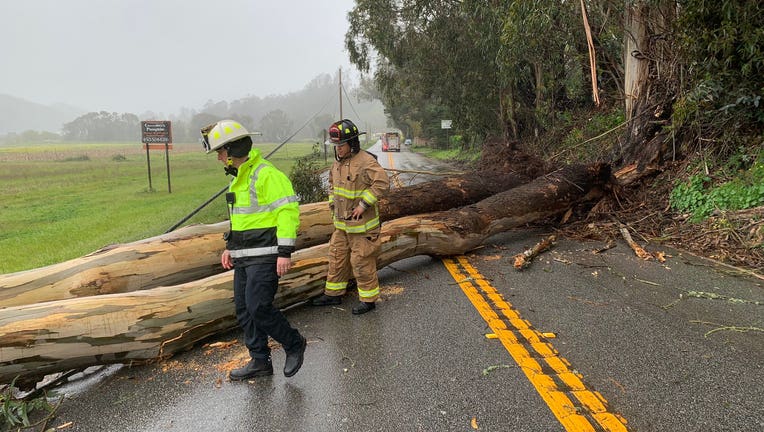 article
Another round of a powerful storm meant another round of havoc on Bay Area roads on Tuesday. Strong winds knocked down trees onto roadways, led to dangerous situations with power lines, as widespread power outages left traffic signals on the blink.
SEE ALSO: Rain, wind cause widespread damage in Bay Area
SEE ALSO: Man catches carp in flooded Watsonville road
Santa Clara County Sheriff's Office warned residents to avoid getting on the roads. "Trees and power lines are falling down left and right throughout the County due to high winds and inclement weather," the sheriff's office wrote on Twitter, adding, "Please avoid traveling and stay in your homes if possible for your safety!"
The same message came from emergency officials in San Mateo County. Its sheriff's office said, "We're responding to wind related calls for fallen trees and power lines across the county. Please use 911 for emergencies only." And deputies advised, "Best to stay indoors and avoid roadways if possible."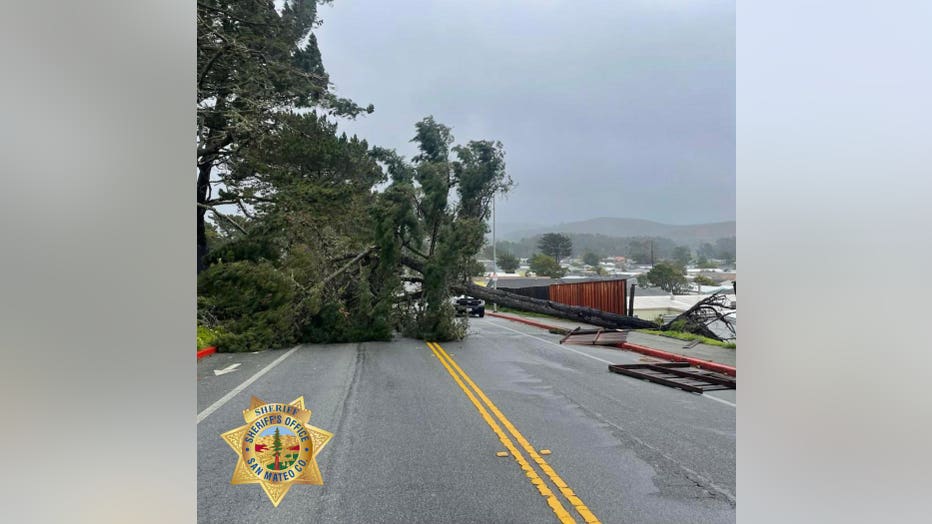 San Mateo County Sheriff's Office shared this photo of a large downed tree blocking a road on Tuesday, March 14, 2023 and advised residents to stay indoors and off the roads if possible.  (San Mateo County Sheriff's Office)

San Mateo County Parks said a number of its parks were closed due to hazards from the weather. The department listed more than half a dozen closures and shared a photo of a large fallen tree saying, "Avoid outdoor activity especially near large trees." 

And on Interstate 280 in Millbrae, a massive tree came down and blocked all lanes in the southbound direction. It was reported shortly before 11 a.m. 
In Belmont, a fallen tree on Ralston Avenue at Davis Drive blocked the road, prompting police to urge motorists to avoid the area.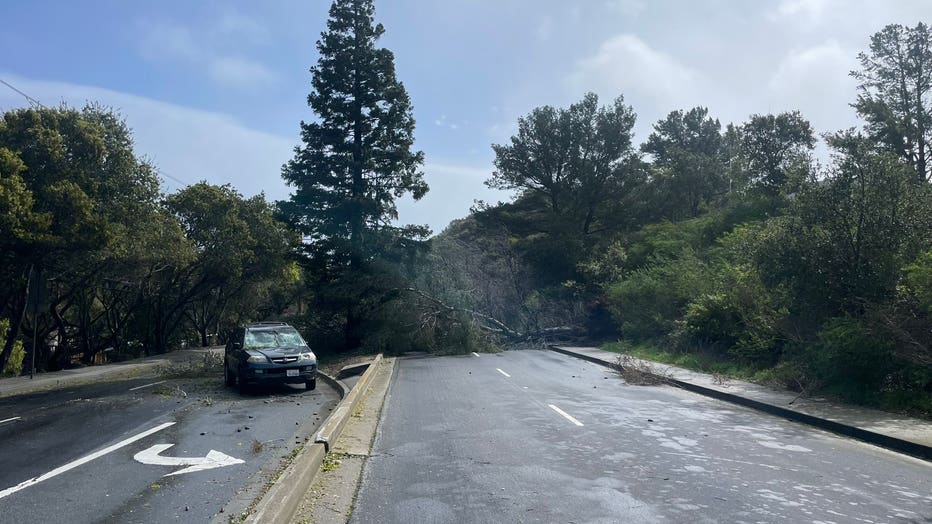 Belmont police said a downed tree blocked eastbound Ralston Avenue at Davis Drive on Tuesday, March 14, 2023.  (Belmont Police Dept.)
In San Mateo, police shut down El Camino Real between Barroilhet Avenue and State Street due to a tree that was leaning on power lines.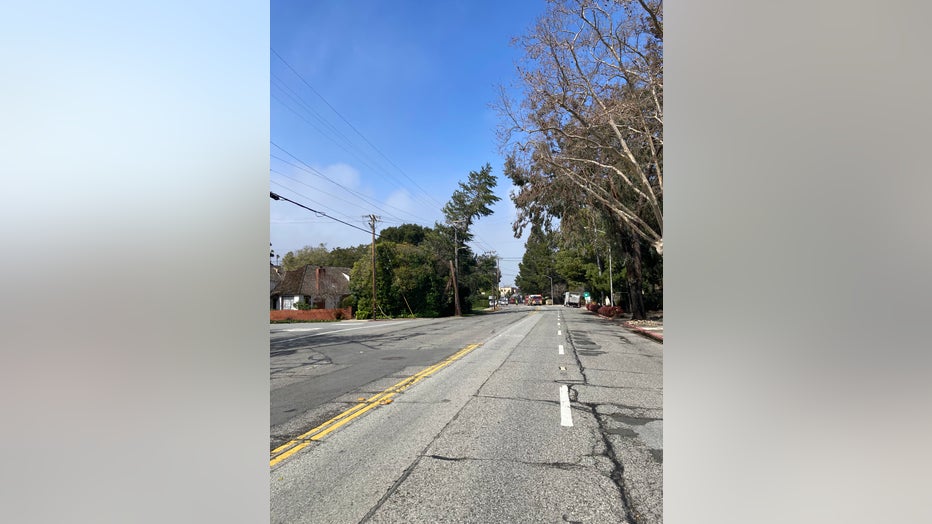 This fallen tree in San Mateo on El Camino Real was among the many storm related hazards Bay Area emergency officials were dealing with on Tuesday, March 14, 2023.
In Half Moon Bay, a large eucalyptus tree fell across the Highway 92 shutting down Skyline Boulevard to Main Street. "No injuries were reported, fortunately," Cal Fire CZU said. 
And in San Rafael, there were some dicey moments as police responded to arcing power lines. The police department shared dramatic video of sparks and flames coming off a power pole on Mountain View Avenue. 
Police shut down the road from Grand Avenue and Linden Lane, and residents were advised to stay indoors until the situation was resolved. Officers said PG&E crews responded to the scene, and power was expected to be out in the neighborhood. 
Across the Bay Area, there were countless reports of downed trees. The high number of such weather related hazards outnumbered the available emergency response teams, as crews were racing to try and keep up with the calls.
KTVU Supervising Editor Mike Cerruti took video of two large trees that had fallen near the Livermore Airport on Airway Boulevard. At the time he took the video, emergency crews were yet to responded to the scene. 
Wind-knocked trees and power lines weren't the only road hazards. Many traffic signals weren't working due to power outages, and police reminded motorists to take caution and treat affected intersection as a four-way stop. 
There were also water-logged roads and swelling creeks and rivers that led to flood concerns. San Mateo County sheriff's officials said that a team of deputies was "exclusively" being assigned to Pescadero, to keep "a watchful eye on the water levels at Pescadero Creek."
And while the rain tapered by the afternoon, the National Weather Service Bay Area office warned that the danger wasn't over.
"While the rain has largely ended wind is going to be a BIG concern this afternoon," the weather agency said. "Given saturated soil falling trees and power outages are *likely*. Please remain vigilant and avoid unnecessary travel."