Bay Area wind, rain cause widespread damage
Strong winds and heavy rains have caused widespread damage across the Bay Area with more than 200,000 Pacific Gas & Electric customers still without power Tuesday night. Numerous downed trees blocked roads or fell onto homes and San Francisco International Airport grounded flights. In San Francisco, glass fell from a high-rise with damaged windows.
The latest punch from Mother Nature came from an atmospheric river passing through the region earlier in the afternoon. A wind advisory was in effect for the Bay Area throughout the evening, with gusts reaching near triple digits in some areas.
Unlike other recent storms where heavy rains unleashed serious flooding, the more serious concern Tuesday was from wind-related wreckage. 
Trees fell onto roads throughout the Bay Area. A section of southbound 280 was completely closed to drivers in Millbrae while Highway 92, near Half Moon Bay, was also closed because of a toppled tree. Parts of the Peninsula, and Livermore and Pleasanton in the East Bay, were among the areas that appeared to have the most destruction from broken branches and downed trees. 
In San Francisco, glass falling from a tower at 555 California Street led the fire department to order people to shelter in place.
Capt. Jonathan Baxter with SF Fire Dept. said glass separated from its frame on the 43rd floor of the 52-story-high rise and fell to the ground below. That floor is under construction, but fire officials says that was not a factor. 
Emergency workers assisted with door-to-door evacuations of people in the footprint of the building. Baxter said people sheltered-in-place had to be escorted out of the impacted area with public safety escorts.
No injuries were reported, but one man said glass from above fell on his car. 
Fire officials said two windows were broken; one was completely broken out and the other was damaged. The Department of Building Inspection responded to the scene to evaluate.
The shelter in place and evacuation orders were lifted at around 6:40 p.m. 
MORE: Trees and power lines 'falling left and right' wreak havoc on Bay Area roadways
Meanwhile, a big rig was knocked over on the Richmond-San Rafael Bridge, leading authorities to stop other "high profile vehicles" from crossing that span and the Golden Gate Bridge.
California Highway Patrol said they were using tow trucks as a "wind break" as they were getting ready to upright the trailer. CHP Marin shared video of when crews got the Walmart trailer to sit back upright.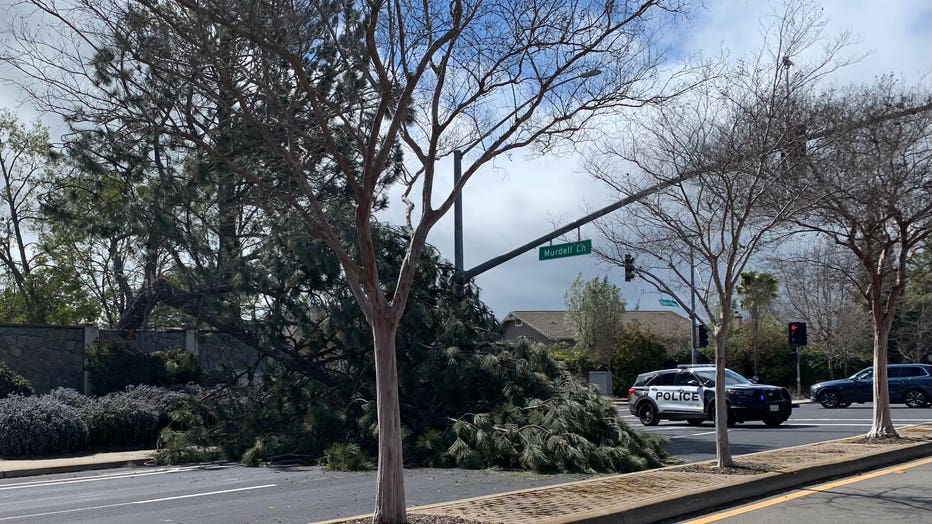 Livermore wind snaps a tree in half on Concannon Blvd. March, 14, 2023. 
Flights temporarily were prevented from taking off at SFO because of the hazardous weather. 
Power outages affected all parts of the Bay Area. Viewers sent in reports of utility wires that lay in the street. One driver told KTVU he felt a huge electric shock when he absentmindedly tried moving a line in the road.