Dublin elementary aged student dies from illness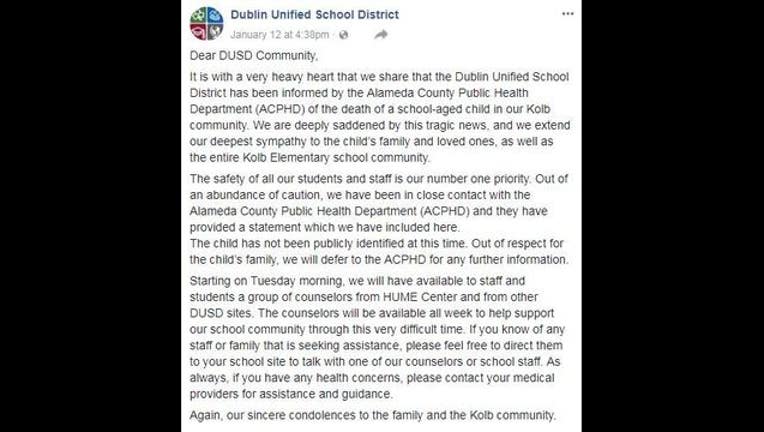 article
DUBLIN, Calif. (KTVU) - A student who attends an elementary school in the Dublin Unified School District recently died from an illness. 
Dublin Unified School District posted on its Facebook page, "We are deeply saddened by this tragic news, and we extend our deepest sympathy to the child's family and loved ones, as well as the entire Kolb Elementary school community." At this point, the child is not being identified. 
The Alameda County Health Care Services Agency Public Health Department released a statement saying it's investigating a report of a deadly illness in a student at Kolb Elementary School. 
The statement read in part, "Based on our investigation, we do not believe that members of the Kolb Elementary School community were exposed on site or are at risk for getting this disease from the ill student. We do not recommend any specific preventative actions at this time to the Kolb Elementary School community."
Beginning Tuesday morning Kolb Elementary School will have a group of counselors available to students and staff. 
At this point additional details have not been released.