Durant against the other Warriors, more All-Star Weekend excitement and the schedule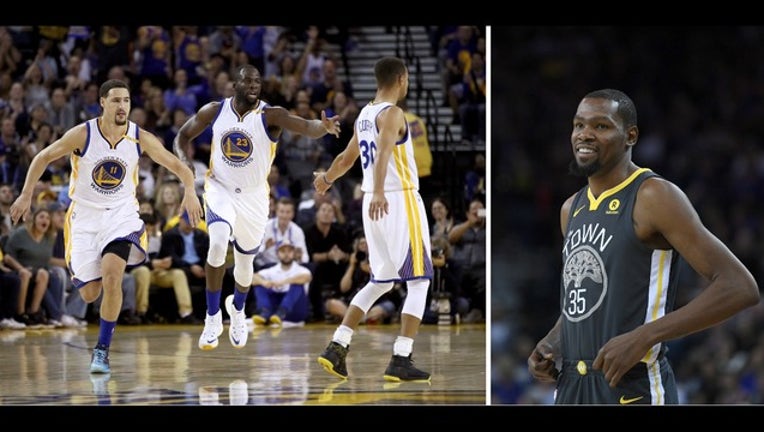 article
OAKLAND, Calif. (KTVU) - The 2018 NBA All-Star weekend is here. The league's best players gather in Los Angeles at the Staples Center for three days of basketball events and celebration. Four Warriors join the bunch for the unveiling of the big game's schoolyard-style selection.
In year's past, the weekend has been a snore. The integrity of the game often takes a backseat as creating a 48-minute highlight reel eclipses any resemblance of defense. 
But there was some changes this year. Here's five things to be excited about:
The new format
No one has any idea if this will make the on-court action more exhilarating. But it's certainly created some drama and is undoubtedly the most exciting thing for the weekend. At a basic level, Team Stephen and Team LeBron – a product of the new selection process – is fresh. And an innovative tactic injection was due to combat the game's dullness. 
Kevin Durant against the other Warriors
Four Warriors are playing in the All-Star Game for the second year in a row, but not on the same team – what up, new format. Durant is the lone Bay Area representative on Team LeBron. Stephen Curry, Draymond Green and Klay Thompson will face their teammate as members of Team Stephen. These matchups will be worth tuning in for. Watching Green guard Durant, and vice versa, should be fun. 
LeBron James and Kyrie Irving on same team again 
The duo that helped lead the Cavs to a 2016 championship will play on the same side of the court again. Irving demanded to be traded away from one of the league's most dominant players and the Cavs after last season. It was a shocking move. James selected Irving to be on his team for the mid-season showdown and both will start. And while it's just an exhibition game, together the two virtually guarantee fireworks. 
Giannis Antetokounmpo is a maniac, and he will go off
Antetokounmpo is the man to watch this weekend. His freakish abilities are no longer the Bucks' pocket aces. The world knows his astounding ability to literally leap over professional athletes and this weekend expect high-flying displays that could lead to an MVP nod. He won't be dunking over Curry – like he did in his All-Star game debut last year – as they're on the same side. But the two teaming up for video-game-like plays is highly likely. The Greek Freak will be in the after-game headlines.
A trio of Sixers and the Rising Stars
"The Process" heads to LA as Philadelphia 76ers have Joel Embiid, Ben Simmons and Dario Saric competing in the Rising Stars game for The World squad. Los Angeles should have a healthy dose of Embiid shenanigans – whether on social media or the court, or both – and slick ball work from Simmons. On the other end, Donnovan Mitchell and Jayson Tatum represent the U.S. team. This could be the weekend's sleeper event, as the youngsters are likely to take it more seriously than the returning all-stars. Embiid will also compete in the skills challenge. 
Not so bold prediction: a gold-plated meme will surface. To set expectations, see Paul Pierce wearing sunglasses while using two phones during last year's dunk contest.
2018 All-Star Weekend schedule: 
All times Pacific (PT)
Friday, Feb. 16
9:30 a.m – Rising Stars practice, NBA TV
4 p.m. – NBA All-Star Celebrity Game, ESPN
6 p.m. – Rising Stars Game, TNT
Saturday, Feb. 17
10 a.m. – Hall of Fame Announcement, NBA TV
11 a.m. – All-Star Practice and Media day, NBA TV
4 p.m. – Commissioner Adam Silver media availability, NBA TV
5 p.m. – NBA All-Star Saturday Night, TNT
1.    NBA Skills Challenge
2.    Three-Point Contest
3.    Slam Dunk Contest
Sunday, Feb. 18
10 p.m. – NBA Legends Brunch, NBA TV coverage starts at 12 p.m.
1:30 p.m. – NBA G League International Challenge, NBA TV
5 p.m. – 67th NBA All-Star Game, TNT coverage begins at 4 p.m.