Durant, defending champ Warriors get defensive, beat Spurs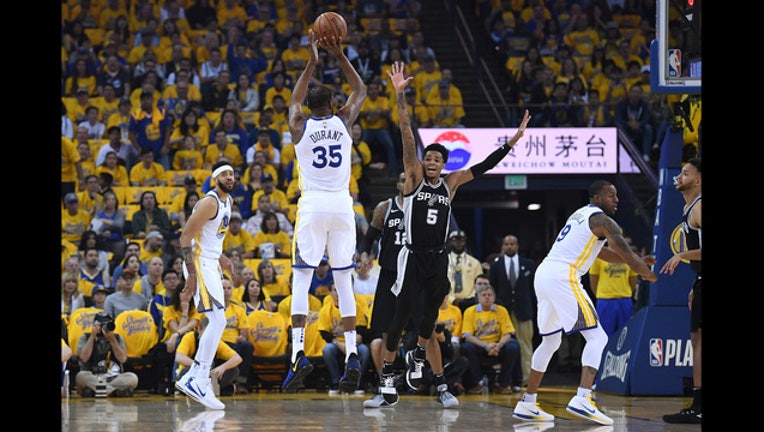 article
OAKLAND, Calif. (AP) - Kevin Durant helped the defending champions get defensive in a hurry, finishing with 24 points, eight rebounds and seven assists as the Golden State Warriors returned to their old dominant selves at playoff time to beat the cold-shooting San Antonio Spurs 113-92 on Saturday.
Durant, Draymond Green and Klay Thompson took charge in Game 1 of the first-round series to elevate the Warriors' intensity at last playing without fellow All-Star and injured two-time MVP Stephen Curry, sidelined since March 23 with a sprained left knee
Thompson found his shot and scored 27 points, making 11 of 13 shots, while 7-footer JaVale McGee started in Steve Kerr's center-by-committee approach and contributed 15 points, four rebounds and two blocked shots in 16 minutes.
Rudy Gay led the Spurs with 15 points off the bench as leading scorer LaMarcus Aldridge was limited to 14 points on 5-for-12 shooting.
Game 2 in the best-of-seven series is Monday night at Oracle Arena.
The defending champions looked unbeatable again. And that was without the do-everything Curry.
The Warriors said all week it's a new season, then went out and showed it. They have plans for nothing short of a repeat title.
Golden State came with the kind of swarming defense it is so used to playing but hadn't shown much lately as rotations were mixed and matched because of injuries and illness.
San Antonio couldn't keep up from the opening tip.
Beat up and missing its four All-Stars at times, Golden State endured a stretch losing seven of 10 last month.
"I noticed that Steph wasn't there," Spurs coach Gregg Popovich cracked before the game. "I watched real closely. I turned it off for a while ... turned it back on and he still wasn't there. I noticed that. But after that I didn't watch anything else, it was too scary."
Golden State swept San Antonio in the Western Conference Finals a year ago on the way to a second championship in three seasons and an astonishing, record-setting 16-1 postseason run.
Kerr always said his team would be ready when these playoffs came around.
The Warriors were determined to pick up their defense ahead of Game 1, and they did just that.
Green, Durant and the others quickly closed on shooters and got hands up to alter shots.
2015 Finals MVP Andre Iguodala moved into the starting lineup for the 2018 edition of that "Strength In Numbers" mantra -- and all those bright yellow T-shirts through the arena are there to back it.
Iguodala, who started just seven games all season before Saturday, had missed four of the final five regular-season games with a sore left knee.
After diving into the baseline fans late in the first half, he headed to the locker room early but returned for the third quarter.
TIP-INS
]Spurs: The Spurs, still without injured star Kawhi Leonard, never led and committed eight first-half turnovers while shooting 34.1 percent (14 of 41). ... San Antonio visited Golden State for the third time in as many months. They lost at Oracle on Feb. 10 and March 8. 
Warriors: The Warriors had 32 assists on 44 field goals, 23 of those assists on 33 made baskets through the third. ... Golden State is 6-2 vs. the Spurs in the postseason at home. ... The Warriors have won six straight playoff openers.
CURRY UPDATE
Curry, who Kerr ruled out for the entire first round, was re-examined Friday and continues to make solid progress. He will ramp up the intensity of his on-court rehab work this week with running and lateral movement as he did in recent days and is scheduled to be re-evaluated again in one week.
He worked through one-legged jumps onto his injured knee during pregame warmups and got in some shooting.
"When he's ready, he's ready but he's making progress, which is a good sign," Kerr said.
FAMILY AFFAIR
Kerr's son, Nick, is on the Spurs staff and the team jokingly voted him out of the film room Friday for fear of him sharing Spurs secrets with the enemy.
"I let the team vote on whether they wanted him to stay in the room or not," Popovich said. "Truly, we did, we took a vote. It was a mock vote but they all voted that he had to leave the room. I overruled them and so I let him stay, because he's wonderful and of course we trust him. But he did have dinner with his family last night, so we'll see."  
QUOTEABLE
So, just what did Warriors top assistant Mike Brown mean to Popovich?
"He kept Stephen Jackson from beating me up, that was his main role," Popovich said.