Epic Day: Boy meets Justin Spieth at Pebble Beach Pro Am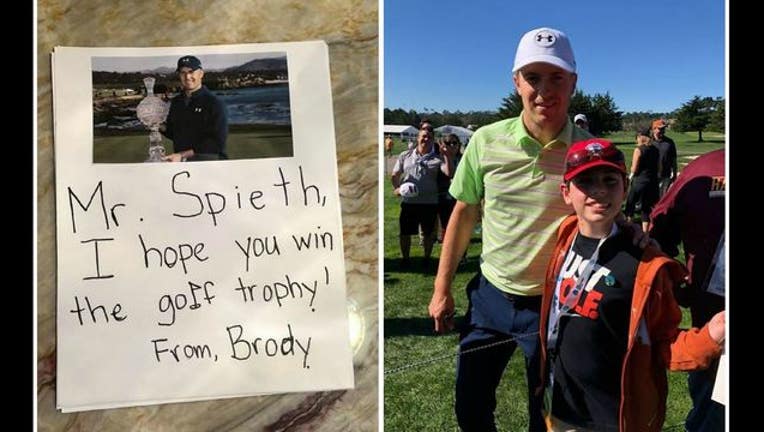 article
PEBBLE BEACH, Calif. (KTVU) - KTVU's Frank Somerville posted the story of a little boy who had an epic day at the Pebble Beach Pro Am.
Here's what the little boy's mother, Kilene Brosseau, wrote:
"We live with autism everyday, taking the scenic route in life, but for this day, the autism seemed to disappear and we have Jordan Spieth and golf to thank for that. Brody is a HUGE golf fan, golfing 2-3 times/week. It is his happy place and where he can be himself.
This year, we decided to take him to a practice round at the ATT Pro-Am. His favorite player is Jordan Spieth.
He really wanted to watch him play and possibly meet him. He even made a sign was very excited to show it to Jordan. We waited at the 2nd hole and when Jordan arrived, Brody was able to get his attention and they had a brief exchange, signing one of Brody's balls and also taking a picture.
From the picture, you can see that Brody is in pure bliss! 
Brody wanted to continue to watch Jordan play and we followed him over the next several holes, with Brody holding his sign. Between the 9th and 10th holes, Brody asked if he would sign his sign.
Jordan stopped walking, happily signed his sign and even gave Brody one of his own balls and signed that as well!
We just couldn't believe what had just occurred! Jordan Spieth is a class act and while I am not sure if Jordan remembers this interaction, it is one that is imprinted on our hearts for a lifetime. He will never know how much this meant to Brody or to us. We often hear about the negative things that athletes have done, but I think we need to focus more on the athletes that truly make a difference. Jordan Spieth is one of these athletes."