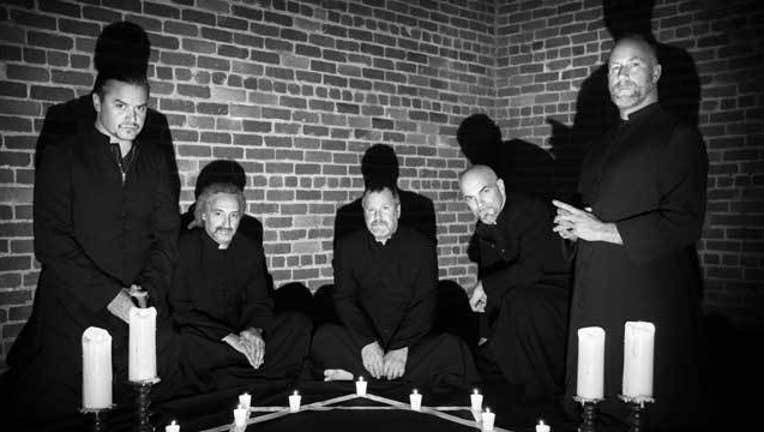 article
One of the first bands to freely mix such disparate influences as funk, metal, punk, hip hop into a cohesive sound, San Francisco band Faith No More would become one of the Bay Area's most successful bands to emerge in the early days of the alternative-rock revolution. Founded by bassist Billy Gould and drummer Mike "Puffy" Bordin in 1981, the band would cycle through a number of lead singers (including a brief stint with Courtney Love fronting the band) before finding vocalist Chuck Mosley as well keyboard player Roddy Bottom and guitarist Jim Martin. It was Mosley's irreverent attitude and rap-influenced delivery of the song "We Care A Lot" that would first earn the group widespread notice on it's independent debut in 1985.
A re-recorded version of the song on the band's second effort Introduce Yourself made an even bigger impact two years later, garnering MTV airplay. Issues with Mosley led to his departure soon afterward, paving the way for Humboldt State college student and Mr. Bungle frontman Mike Patton to join the group. Though most of the material for FNM's next album was already written when he joined, Patton was able to put an indelible stamp on the material with his lyrics and vocal melodies, elevating The Real Thing to its status as one of the classic alt-rock albums of the decade.
Equally adept at rapping, soulful crooning and screaming, Patton's remarkable voice and charismatic stage presence became the band's focal point. The song "Epic" became a huge hit and inadvertently laid the blueprint for countless far less interesting funk-metal bands that would follow in Faith No More's wake. On subsequent releases such as the follow-up Angel Dust, the group would become even more eclectic and experimental with its incorporation of sampling and wider range of dynamics between the corrosive metal of "Malpractice" and the sweet, accordion-driven cover of the theme from "Midnight Cowboy."
While Martin's departure would destabilize the group to a degree, Mr. Bungle guitarist Trey Spruance and Jon Hudson filled in on the two albums that the band released before eventually splitting up in 1998. Individual members would pursue a variety of projects -- Patton was most prolific with his myriad bands and collaborations including Tomahawk, Fantomas, and Peeping Tom to name just a few -- but the group decided to get back together in 2009 for a run of European summer festival appearances that were met with wide acclaim. 
Where many reunited bands from the era have remained content to play their hits to festival audiences, last year Faith No More quietly announced their plans to release the group's first collection of new material in over a decade. Set for release next month, Sol Invictus finds the quintet dealing out its usual eclectic range of sounds from ferociously heavy (the bludgeoning metallic prog of "Superhero" and the Morricone-influenced "Cone of Shame") to melancholy piano-driven dirges (sweeping epic "Matador" and the opening title track). Some of the songs from the new album will make their local live debut when Faith No More headlines two sold-out concerts at the Warfield starting Sunday. Local Latin ska-punk outfit La Plebe opens the show Sunday, while reunited '80s feminist punk outfit Frightwig plays support on Monday.
Faith No More
Sunday-Monday, April 19-20, 8 p.m. $49.50-$75 (sold out)
Warfield Theater