Fake highway signs jab at new California immigration law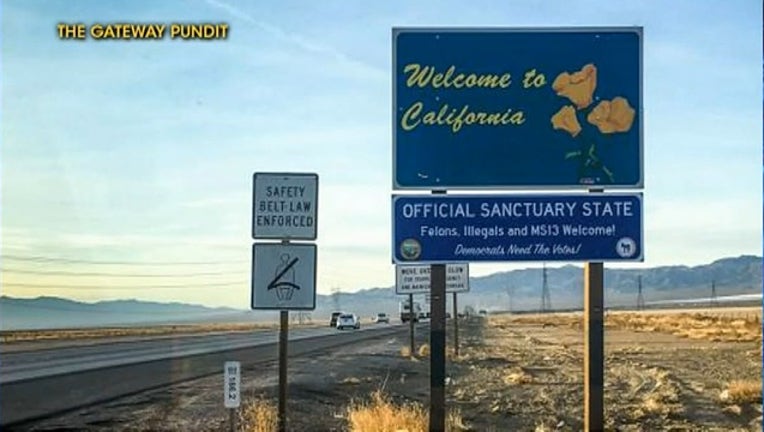 article
SACRAMENTO, Calif. (AP) - Drivers heading to California saw fake signs decrying a new immigration policy on at least two highways, welcoming them to an "official sanctuary state" that's home to "felons" and gang members.
State officials removed a sign Tuesday on the Arizona line and another Monday near the Nevada border, Department of Transportation spokesman Mark Dinger said.
The signs take aim at California's sanctuary state law that kicked in Jan. 1 and provides greater protections for immigrants living in the state illegally. It limits cooperation between local law enforcement and U.S. immigration authorities.
The law bars police from asking people about their immigration status, but jail officials can work with federal authorities in some cases. The measure was widely backed by Democrats.
The fake signs appeared just under the official "Welcome to California" markers and referenced the Central American street gang MS-13: "Felons, illegals and MS13 welcome! Democrats need the votes!"
President Donald Trump's administration has harshly criticized sanctuary policies and attempted to cut off federal funding to jurisdictions that adopt them.
California passed a statewide sanctuary policy that took effect with the new year, and cities such as San Francisco, Chicago and Philadelphia have adopted them. A federal judge has blocked the effort to halt funding.
The fake signs, made of paper, covered existing signs on Interstate 15 at Mountain Pass, near the California-Nevada border, and along Interstate 40 in Needles, near California's border with Arizona.
A similar sign popped up in Malibu last year after it adopted sanctuary city policies.
The state's transportation department does not allow any unauthorized signs on state rights of way for safety reasons, Dinger said.