Feds return stolen antique books to Italian government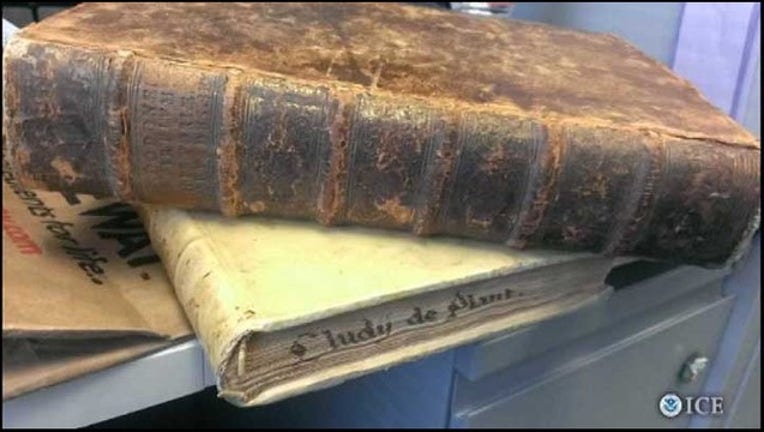 article
SAN FRANCISCO (BCN) -- Federal agents have returned 19 cultural treasures to the Italian government after they were discovered in the United States, including two antique books from the San Francisco area, according to U.S. Immigration and Customs Enforcement's Homeland Security Investigations.
In June 2013, San Francisco-based federal investigators acted on a request from Italian authorities to investigate two volumes stolen from the Italian Historical National Library of Agriculture.
"Stirpium Historiae" and "Rariorm Plantarum Historia Anno 1601" had been sold to an unidentified American buyer in the San Francisco area. When special agents met with the buyer, he voluntarily gave up the books, according to ICE.
Other cultural artifacts returned to Italy included a marble sarcophagus lid that was recovered from the private collection of a known trafficker by New York-based investigators and a breech-loading cannon that was being smuggled inside of heavy machine equipment recovered by Boston-based investigators.
The 19 artifacts were recovered as a result of 11 separate investigations involving Homeland Security Investigations offices in New York, Boston, Buffalo Baltimore, Miami, San Diego and San Francisco. U.S.
Customs and Border Protection and Italy's Carbinieri also assisted.
HSI International Operations has 63 offices in 46 countries. HSI assigns specially trained investigators to train law enforcement partners involving stolen property and art to help recover those items when they show up in the marketplace.
Since 2007 more than 7,200 artifacts have been returned to 30 countries, including Iraq, according to ICE.
Members of the public with information about stolen cultural antiquities are encouraged to call Homeland Security's toll-free tip line at (866) DHS-2-ICE.