Fencer first US athlete to wear hijab at an Olympics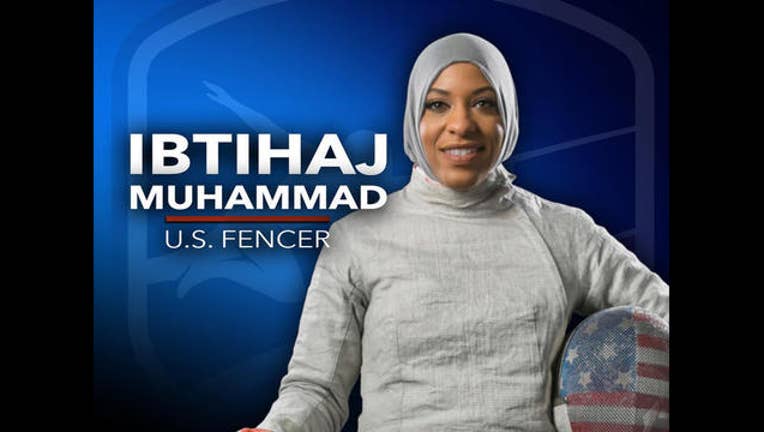 RIO DE JANEIRO (AP) — The third day of Olympic competition featured a couple of notable firsts: Rafaela Silva captured host Brazil's initial gold medal of the Rio Games and fencer Ibtihaj Muhammad became the only American ever to compete in the Olympics wearing a hijab.
The U.S. men's basketball team surged after a slow start, beating Venezuela 113-69 on Monday night and Serena Williams struggled before beating France's Alize Cornet 7-6 (5), 6-2 in her bid for a second consecutive singles gold medal.
Silva, who grew up on one of Rio's hillside shanty towns, won judo's 57-kilogram division, then, overwhelmed with emotion, performed the Brazilian version of the Green Bay Packers' "Lambeau Leap" to celebrate with her compatriots Monday.
It was, at the least, a momentary reprieve for the host country bracing for what once seemed unthinkable: an early exit by its men's soccer team from the Olympic tournament. Brazil finds itself needing a victory against Denmark to advance and avoid another huge embarrassment two years after a demoralizing 7-1 loss to Germany in the semifinals of the World Cup.
Brazilian fans aren't just booing their men's soccer team. After months of dire predictions from abroad about the mosquito-borne Zika virus, some locals are doing some stinging of their own: They're jeering U.S. athletes and taunting them over the fears that kept some competitors away from South America's first Olympics.
In the women's sabre tournament, Muhammad, sporting a plain black Muslim head scarf under a red, white and blue mask, was a winner in her opening bout before bowing out. A New Jersey native who started fencing in part because the uniform allowed her to adhere to the tenets of her faith, Muhammad also competes in the team event later this week.
Australia won the first gold medal for rugby sevens at the Olympics, beating archrival New Zealand 24-17 in the women's final Monday night.
A day after adding a record 19th gold medal to his collection, Michael Phelps is swimming the 200 meter butterfly semifinal Monday night and fellow American Katie Ledecky is swimming the women's 200 meter freestyle.
Other highlights from Day 3 of the Rio Games:
GOLF DEBUT : The first Olympic golf shot in 112 years will be hit by the lone Brazilian in the men's field. The International Golf Federation tapped into what few Olympic roots it has by selecting Adilson da Silva to be the first to tee off Thursday. Also in the opening threesome: Graham DeLaet of Canada, a country IGF President Peter Dawson called the defending champ — George Lyon of Canada won the gold medal at the St. Louis Games in 1904.
BRAZIL BLEAK : It has come to this for the Brazilian men's soccer team: The fans are so disappointed with the team that they heckled football icon Neymar and chanted the name of the women team's star during a lackluster, scoreless tie against Iraq over the weekend. Brazil is now facing elimination — a prospect that once seemed unthinkable in the soccer-obsessed Olympic host country.
BILES BROUHAHA : NBC announcer Al Trautwig says he regrets tweeting that the adoptive mother and father of U.S. gymnastics star Simone Biles were not her parents. Trautwig angered adoption advocates by refusing to refer to Ron and Nellie Biles as the 19-year-old's parents. Ron Biles, her maternal grandfather, and his wife Nellie adopted Simone 16 years ago. Trautwig said, "to set the record straight, Ron and Nellie are Simone's parents."
SPECTACULAR SEAS : Sailing, not the dirty water, was finally the focus on troubled Guanabara Bay during a spectacular start to the Olympic regatta on Monday. Windsurfers sped across the waves toward Flamengo Beach in a fresh breeze, against the imposing backdrop of Sugarloaf Mountain. Robert Scheidt won the second race in the Laser class. He's trying to become the first Olympic sailor and first Brazilian to win six Olympic medals.
___
AP Summer Games website: http://summergames.ap.org