Firefighters work non-stop through holiday weekend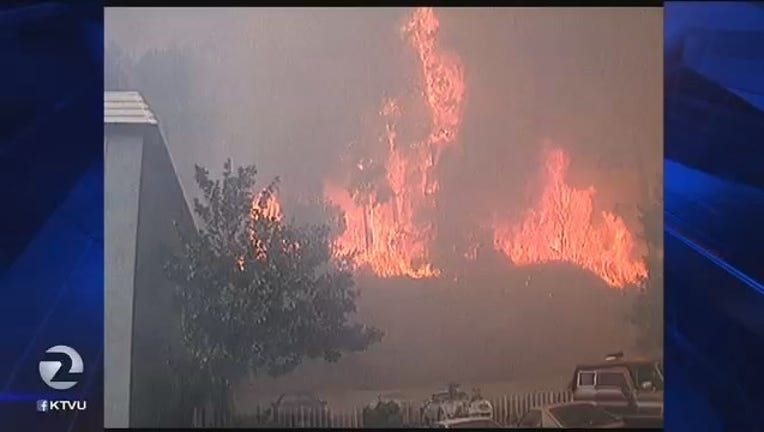 article
HAYWARD, Calif. (KTVU) - For firefighters around the Bay Area, the 4th of July is anything but a holiday.
"I think in 29 years, I've had the day off four times," Hayward Fire Battalion Chief Vince Cobbs told KTVU, "and this year, the amount of illegal fireworks being ignited was phenomenal, it was unbelievable."
Hobbs was referring to the fireworks that went off in many cities, despite dire warnings of fire danger in drought conditions.
"I started calling, I started dialing, I was on hold, on hold," one San Jose resident told KTVU, describing how she called police amid rampant fireworks in her neighborhood, hoping officers could put a stop to it.
But she couldn't get through and soon she heard sirens.
"The whole house across the street was engulfed in flames," she exclaimed, " and I thought 'oh my God, that's all it took."
The home on the 800 block of Yerba Buena Road looked fine from the front on Sunday, but the rear was a charred mess, with roof damage and several rooms gutted, walls and windows boarded up.
A family of four was displaced by the fire, which was started by a firework that landed in the backyard. Even after engines and crews arrived to fight it, fireworks kept erupting at surrounding homes.
"A house burned down," said the neighbor, who didn't want to be identified, "and it could have been three houses. It could have been the whole block. That's what I don't understand."
Even after the holiday fireworks danger persists.
"Usually we have quite a bit still going off for the full week after," explained Battalion Chief Hobbs, "people getting rid of their supply."
KTVU caught up with Hobbs at a brush fire near Hayward's Shoreline Regional Park Sunday afternoon.
The fire was contained to four acres, then jumped a road and spread to 26 acres.
"There's never a good location for a fire, " said Hobbs, noting that the rural park and flood control property had no structures that could be threatened.
Still, the fire required helicopter water drops and ground crews from five fire agencies, and it was clearly caused by illegal fireworks.
We found some bottle rockets and remnants of bottle rockets at one end of the fire," acknowledged Hobbs, "and most likely, they tried to set them off near the Bay, thinking that was safe, but the winds blew back into the vegetation."
The bottle rockets may have been set off Sunday, or left over from Saturday night.
"They're like a firecracker on a stick and they fly," described Hobbs, "and you can get hurt, fingers, eyes, things of that nature, plus obviously fires."
 Saturday afternoon, a small "Piccolo Pete" firework sparked a fire in the Oakland Hills that burned dangerously close to homes.
Despite the dry conditions and constant warnings, people like their fireworks.
"It's just out of control," declared the San Jose woman who tried so valiantly to keep fire out of her neighbohood.  "I get it, it's 4th of July. I get that. God bless America. But it's so dry. Why are you willing to take that chance?"