First of five homicide victims in Modesto identified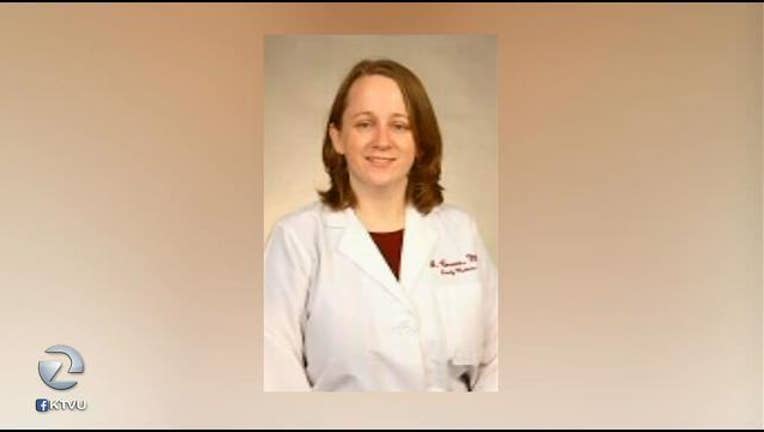 article
SAN JOSE, Calif (KTVU) - Relatives say the victims of a mass murder in Modesto include a physician and her two daughters, plus a child who was visiting the home for a sleepover.
Two women and three girls were found dead Saturday. Authorities have not said how they died.
One of the women is identified by family as 38 year old Dr. Amanda Crews, who was a family physician for Stanislaus County Health Services.
Crews' boyfriend, 30 year old Martin Martinez, is in custody on suspicion of multiple homicides.
The couple's six month old daughter is among those Martinez allegedly killed.
"He's not this monster that everybody's saying that he is, he's not, " a cousin of Martinez told KTVU outside the family home in East San Jose.
"We're all family here, we're his family," added Sherry Martinez, adding that she did not know details of the crime, but was stunned at the allegation.
"He's a good guy, a good person, he's our cousin," Martinez said, "he has a good job, he worked, he was a good person."
But Modesto investigators zeroed in on Martinez early, and caught up with him in San Jose, where he lived before Modesto.   
They found his red Lincoln Navigator in front of his father's house Saturday night, searched and towed it, but Martinez was already gone, in another car.
San Jose Police tracked that vehicle to Westfield Oakridge Mall, which has a movie theater and restaurants that are open late.
Officers watched and waited until Martinez emerged. 
"The actual car was parked over here against the street, against Blossom Hill," a mall employee named Denise told KTVU, pointing to the parking spots that were swarming with police officers at about 1 AM Sunday.
"I could see them at one point, they had guns pointed at the gentleman," recounted Denise, describing how she saw Martinez on the ground, and then put in a patrol car.
When she came to work the next day, and learned he was wanted for a killing spree ninety away?
"It's kind of crazy, how that dawns on you," Denise admitted, "I mean I was so close, so it brings it home that you never know who's around and how scary it can be."
Dr. Crews' family members also say her 6 year old daughter from a previous marriage was killed, along with a friend the same age, who was visiting for a play date. 
So far, there has been no identification of the other woman who died. 
Martin Martinez is in the Santa Clara County Jail and expected to be moved to Modesto shortly.
He and Dr. Crews apparently met when he worked for Stanislaus County Health Services as well.