Five San Jose teens charged as adults in alleged gang-related murder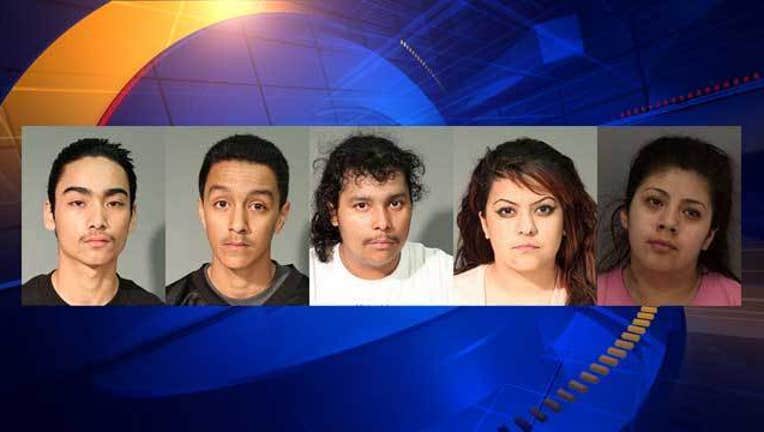 article
SAN JOSE, Calif. (KTVU) -- Five juveniles, including a 14-year-old boy, have been charged as adults in the gang-related homicide of a man shot early Saturday near an elementary school in San Jose, according to San Jose police.
The three boys and two girls, all residents of San Jose, are charged with murder with a gang enhancement in the death of 20-year-old Juan Luna who was shot down in a residential neighborhood south of downtown San Jose, police said.
The suspects, arrested by police on Monday on suspicion of murder and charged on Wednesday, include Jacob Lapenias, 17; Arturo Garcia-Laredo, 14; Michael Anaya, 15; Thalia Ruiz, 16; and Jasmine Rosales, 17.
San Jose police were called at 2 a.m. Saturday on a report of a male shot in the area of South Almaden Avenue and Oak Street just off the grounds of Washington Elementary School, police said.
Luna died later at a hospital from at least one gunshot wound, according to police.
On Monday, a police officer on patrol spotted a vehicle near Capitol Expressway and Story Road in East San Jose that matched the description of the vehicle believed used by suspects during the commission of Luna's murder, police said.
When the officer attempted to pull the vehicle over, the driver sped away and led police and the California Highway Patrol on a chase about 30 miles north that ended on Interstate Highway 680 outside Livermore.
After police sent the homicide case to the Santa Clara County District Attorney's Office, prosecutors decided to charge the five juveniles as adults with murder and with gang enhancement, according to police.
The gang enhancement means that prosecutors believe the murder was performed on behalf of a street gang, according to police spokesman Officer Albert Morales.
Luna was a resident of the neighborhood of South Almaden and Oak where he was shot, Morales said.
A spokesman for the district attorney's office could not be reached.