Boy, 11, arrested for shooting 2 football teammates at Apopka practice over bag of chips, police say
APOPKA, Fla. - An 11-year-old boy in Florida has been arrested after allegedly shooting two of his Pop Warner football teammates Monday evening after practice at a sports complex in Apopka, police said, allegedly stemming from a fight over a bag of chips.
The child, who is not being named due to his age, is facing one count of attempted second-degree murder, Apopka Police Chief Michael McKinley said during a news conference Tuesday morning.
Authorities said the boy grabbed the gun from an unlocked box in his mother's SUV and fired toward another teammate, hitting him in the back. That same round is believed to have then struck another juvenile in the arm.
Both kids were taken to the hospital and are expected to fully recover, police said. 
"As a society we need to reflect on this," said Chief McKinley "We see this too often in our society now."
"Juveniles, young juveniles…that have access to guns, but the more disturbing part is that they believe that gun, that firearm, is a resolution to their problem. And it's not a resolution to anybody's problems. It just creates more problems for everybody involved," he said. 
Watch: Apopka Police Chief gives update on Pop Warner shooting
Apopka shooting timeline: What happened?
On Monday, Aug. 2, around 8:20 p.m. Apopka police received 911 calls reporting a shooting at the Northwest Recreation Center complex, near the football fields, police said.
The first officer arrived at 8:24 p.m. - four minutes later – and found one juvenile lying on the ground in the parking lot, a second victim holding his arm, and the alleged shooter near a vehicle being "shielded" by a man and his mom, according to the arrest report.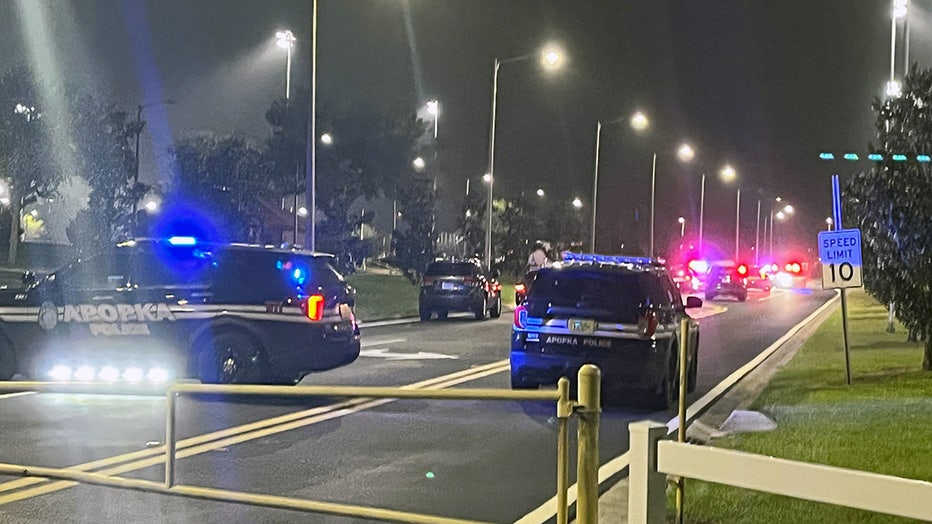 Two juveniles were shot at a Pop Warner football practice in Apopka Monday evening, according to the Apopka Police Department.
The suspected shooter – later identified as an 11-year-old boy – was detained and placed in the back of the officer's vehicle. Police said the boy was highly emotional, crying, and repeatedly said he didn't know where the gun was, according to the report.
The gun – described as a small, purple handgun – was found inside the boy's mother's blue SUV, the report said. Police said the boy retrieved the gun from an unsecured box in the vehicle and allegedly put it back after the shooting.
The mother was in the driver's seat of her car before and during the shooting, police said. She told officers that the gun was kept in an unlocked box underneath her seat and the boy knew where it was.
Police: Shooting was captured by surveillance cameras
Surveillance video from the park reportedly captured the shooting incident. Police included that timeline in their report:
8:17 p.m. - Camera records various bystanders in the parking lot and in front of the vehicle
8:18 p.m. - Camera shows the alleged shooter and victim 1, described as a heavy-set male with red shorts, and victim 2, wearing a jersey, come into view. Victim 1 is chasing the alleged shooter, who runs towards his mother's vehicle.
8:18:05 p.m. - Shooter is seen opening front passenger door and reaching in. His back is facing Victim 1.
8:18:08 p.m. - Victim 1 comes within 10 feet of the alleged shooter and is stopped by an unknown male. Victim 1 then turns around.
8:18:09 - Alleged shooter turns around and runs toward Victim 1.
8:18:10 - Alleged shooter raised his right arm towards back of Victim 1 and fires one shot. Victim 1 is hit in the back and runs away, outside of the camera's view.
Immediately after, according to the report, the alleged gunman is grabbed by someone else and brought back to his mother's vehicle.
Police said it appears that prior to the shooting, victim 1 has taken four steps away from the alleged shooter as he was walking away. Police said it appears the alleged shooter ran five steps towards Victim 1 before he fired the single shot, according to the report.
Police: One bullet. Two victims. 
Both of the shooting victims were taken to an area hospital, the chief said. One of the victims was injured in the arm and the other in the upper body, according to investigators. Police believe the second victim was struck by the same bullet directed toward the other boy, which exited and grazed his elbow, according to the arrest report. 
The investigation is in its early stages, McKinley said, and the circumstances that led to the fight were not immediately known.
The arrest report, however, revealed the juvenile shooter was in a fight with two other kids who were reportedly bullying him over a bag of chips. 
"It's unbelievable that young kids out here to play football and have a good time would get into an altercation," the chief said, "but in today's society, our juveniles run, retrieve a gun, and fire the gun. It's unacceptable. We can do better than that as a society. We should not resort to violence."
What we know about the 11-year-old suspect
The suspect is currently being held at a juvenile detention center. McKinely was asked why the boy is facing one count of second-degree attempted murder, though two people were shot.
"That it'll be up to the courts if they want to separate those [charges]. Again, this is a serious charge and we're talking about an 11-year-old child here," McKinley said. "I don't think there is a need to stack on charges on an 11-year-old child that has no criminal history."
Alleged shooter's mom could also face charges
Police said the gun the boy used was legally owned by the parent, however, the mom could still face criminal charges because the gun was left in an unsecured box that was accessible to the child.
Chief McKinley said Apopka police are pursuing charges.