Former Santa Clara star finds success with national team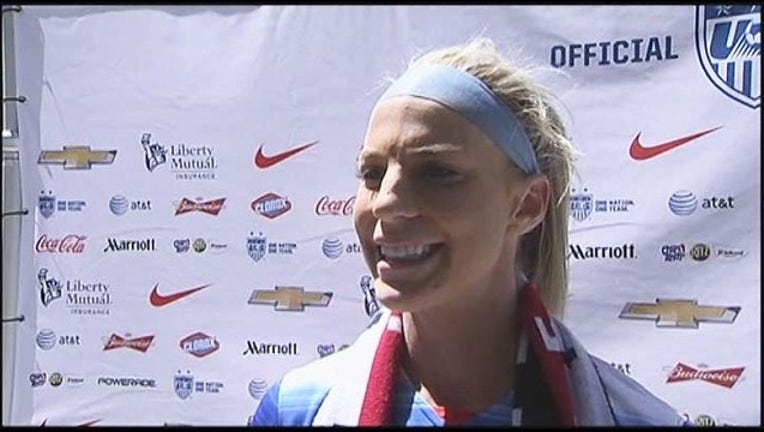 article
SAN JOSE, Calif. (KTVU) – With her parents looking on for the first time, U.S. women's national team defender Julie Johnston continued her hot streak over the weekend during the lead up to this summer's Women's World Cup soccer championship.
Johnston scored on a set piece in the 54th minute for the U.S. team's final goal in a 3-0 win over Ireland.
It was the third straight game Johnston has scored on a set piece, but this one was especially satisfying.
It came in San Jose just miles from where she starred at Santa Clara University and her mom was in the stands on Mother's Day.
"This was the first game they (her parents) were able to see me wearing this uniform (of the U.S. national women's team)," she said. "So it's very special."
When it comes to her scoring streak, Johnston was quick to give credit to her teammates.
"It's pretty remarkable," she said of the streak. "But the services I'm getting are perfect so I'm happy to finish them when I can."
But she also admitted that she was fortunate to just get her foot on the ball on her scoring shot against Ireland.
"Lauren (Holiday) hit such a great service," she said. "I couldn't get my head on it so I tried to use my toe and I think my pinky toe touched it just enough to get it in so I'll take that."
While scoring has been fun, Johnston said she still knows her primary role on the team remains on the defensive end of the pitch.
"Our defenders take is, we don't want goals, but if we score them for us in the other net, we'll absolutely do that," she said.
Johnston also is pleased how the mixture of young defenders and veterans was coming together as the team approaches its World Cup opener.
"We have such depth on this team," she said. "You look at every player on this roster and it's huge. So what we've been doing is just trying to get a relationship, especially in the back line and we're on the same page."