Frances McDormand brings 'inclusion rider' into spotlight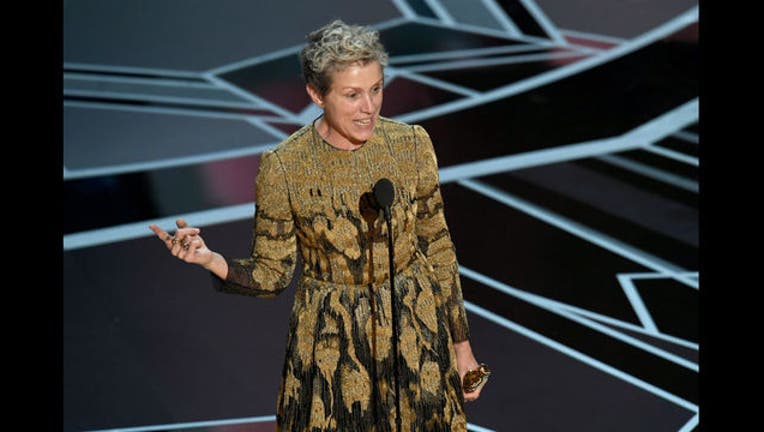 article
LOS ANGELES (AP) - When Frances McDormand capped her Oscar acceptance speech with a rousing call for inclusion riders, the general reaction was more "huh?" than "hooray!"
She was referring to using business contracts as a vehicle to further gender and racial diversity in Hollywood by adding a clause that mandates it.
McDormand, honored as best actress for "Three Billboards Outside Ebbing, Missouri," raised the concept's profile in an instant Sunday night.
"Look around, ladies and gentlemen, because we all have stories to tell and projects we need financed," she said, adding, "I have two words to leave with you tonight, ladies and gentlemen: inclusion rider."
The Annenberg Inclusion Initiative at the University of Southern California explained the concept in a December 2017 paper. It credits initiative founder Stacy Smith as having crafted the rider with employment attorney Kalpana Kotagal.
The rider is "an addendum to a contract that creates conditions for more equitable casting and hiring, focused on developing a diverse talent pipeline in the entertainment industry," according to the initiative. "This contractual language represents a crucial step in eliminating exclusion of underrepresented or marginalized groups."
Backstage, McDormand said she just learned of such a possibility last week although she said the opportunity to ask for or demand diversity in cast and crew is not new.
"The fact that I just learned that after 35 years of being in the film business, we're not going back," she said.
"It changes now and I think the inclusion rider will have something to do with that," McDormand said.
___
For full coverage of awards season, visit: https://apnews.com/tag/AwardsSeason