Fremont woman bruised at Santa Rita Jail after calling 911 settles for $137K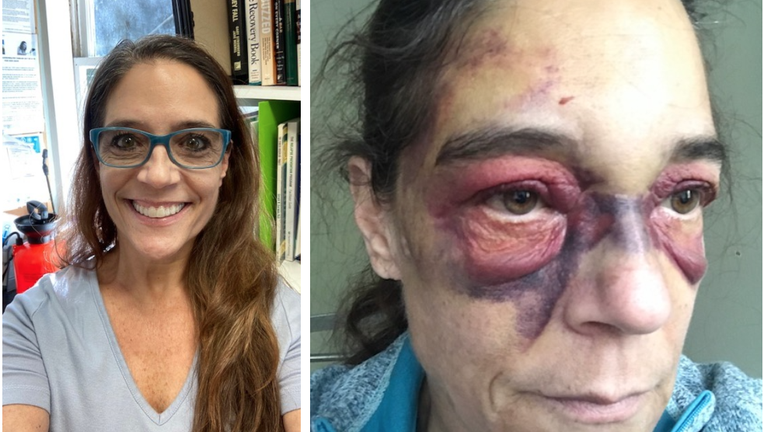 article
FREMONT, Calif. - A Fremont woman whose husband called 911 because she was extremely drunk received a check on Thursday for $137,500 from Alameda County to settle her lawsuit alleging she was the victim of excessive force at Santa Rita Jail. 
"I'm OK with it," Jolynn McCabe said. "The fact that ACSO had to pay something."
McCabe sued the Alameda County Sheriff's Office after what happened to her on Sept. 13, 2020. 
She has long suffered alcoholism and on that day, she was in an especially bad state. She was yelling and acting erratically. She asked her husband to call for help. Both of them hoped paramedics would arrive and take her to a rehabilitation facility.
Instead, police showed up and took her to Santa Rita Jail. 
A run-in with deputies left her face bruised and purple. No one beat her, but in an attempt to subdue her, McCabe fell and bumped her head in her cell. 
MORE: Grandma ends up bruised in Santa Rita Jail after calling 911 for help
The Sheriff's Office refused to release body camera video to KTVU.
But the sheriff did release a portion of the video to the Dr. Phil Show, which aired a feature on McCabe. The show also paved the way for her to attend a pricey rehab center in Southern California called WestWind where she received treatment for nearly a year. 
The portion the sheriff released to the talk show host revealed deputies aiding an intoxicated McCabe, including a touching moment where one deputy braided her hair to keep it off her face. 
But McCabe's civil rights attorney, Adante Pointer, obtained the full body camera video from the jail, which showed a more aggressive approach with her. The video showed a deputy putting McCabe into a take-down maneuver, where her head slammed into the cement, resulting in her facial injuries.
Pointer said that the settlement shows that what the deputies did to her was wrong and that the sheriff misled the public on what really happened. 
In an interview, McCabe said life is still hard. While she had been sober for a while, many things trigger her and she often falls back into her alcoholic habits, drinking for a few days at a time before trying again.
KTVU first highlighted McCabe's story as a means to highlight a growing movement by cities to stop sending police when people call 911 for non-criminal emergencies – like mental health or substance abuse issues. It's also a way advocates say society can make good on recent calls to reform police departments since the May death of George Floyd in Minneapolis. 
Despite being described as "combative," "assaultive" and drunk in public by Fremont police, McCabe was never charged with any crime.