'Game of Thrones' earns a leading 24 Emmy Award nominations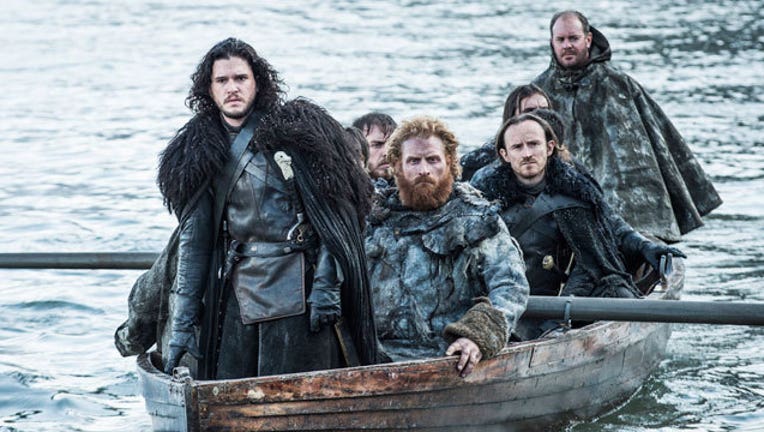 article
WEST HOLLYWOOD, Calif. (KTVU-AP) -- The elaborate fantasy saga "Game of Thrones" received a leading 24 Emmy Awards nominations Thursday, its stature apparently untouched by backlash over a female character's rape scene.
The series is a contender again for top drama honors, an award that has eluded it since it debuted in 2011. TV academy voters rarely give shows in the sci-fi or other genres the ultimate accolade, with "Lost" among the rare exceptions.
The TV academy took a step toward recognizing TV's increasing embrace of diverse TV talent, giving best actress nods to black stars Taraji P. Henson for "Empire" and Viola Davis for "How to Get Away with Murder."
That sets up a possibility of a history-making win: An African-American actress has never won the top drama acting award. However, two-time nominee Kerry Washington of "Scandal" was left out this year.
"I gotta win! I gotta win for history!" an exuberant Henson said in May when asked about the prospect during an "Empire" panel.
However, two-time nominee Kerry Washington, the black star of "Scandal," was left out this year.
Also snubbed: freshman hit hip-hop-family drama "Empire," which was left out of the best drama series category, and series star Terrence Howard, who failed to get a best drama actor bid.
Instead, voters gave nods to favorites such as "Mad Men" star Jon Hamm, Spacey of "House of Cards" and newcomer Bob Odenkirk for "Better Call Saul." The prequel to the now-concluded "Breaking Bad" earned a best drama bid in its first season out.
Gina Rodriguez, the standout Latina star of "Jane the Virgin," failed to get a comedy acting nod -- despite winning a Golden Globe award for her performance.
The relatively expansive ethnic diversity that TV offers -- compared to movies, which honored only white actors this year -- also is in play when it comes to sexuality. "Transparent" and Jeffrey Tambor's portrayal of a transsexual's life received best comedy series and acting bids.
Other top awards are "American Horror Story: Freak Show," with 19 nominations; TV movies "Olive Kittridge" and "Bessie," with 13 and 12 bids, respectively; and "House of Cards," "Mad Men" and "Transparent" with 11 nominations.
Programs getting a last chance for Emmy glory include best drama series nominee "Mad Men," a four-time winner in the category that would be the most-honored drama ever with a fifth trophy. For star Hamm's portrayal of Don Draper, it's a final shot after seven previous nominations.
David Letterman, who retired from "Late Show," and Stephen Colbert, who left "The Colbert Report" to succeed Letterman this fall, both received variety talk show nominations for their former shows.
"Late Show" was last nominated in 2009 as best variety, music or comedy series and last won in 2002. Colbert's show won in 2014.
They're both getting a break: the TV academy split the variety series category into two, one for variety talk shows and one for variety or sketch series like "Saturday Night Live," making space for more contenders in each.
Joining "Game of Thrones," "Mad Men" and "Better Call Saul" in the best drama category are "Downton Abbey," "Homeland," House of Cards" and "Orange is the New Black," which switched over from comedy series contention because of an Emmy rules change.
On the comedy series side, perennial TV academy favorite "Modern Family" is nominated again, along with "Louie," "Silicon Valley," "Transparent," "Unbreakable Kimmy Schmidt" and "Veep."
"Modern Family" has won in the category a record-tying (with "Frasier") five times.
Besides Hamm and Odenkirk, others vying for best drama actors are Kyle Chandler of "Bloodline," Spacey in "House of Cards," Jeff Daniels from "The Newsroom" and Liev Schreiber in "Ray Donovan."
In the drama actress field, Henson and Davis will compete with Robin Wright of "House of Cards," Claire Danes in "Homeland," Elisabeth Moss from "Mad Men," and Tatiana Maslany of "Orphan Black."
The Emmy announcement was displaced from its home at the TV academy headquarters in Los Angeles by a renovation project. The change to a theater in West Hollywood also moved the traditional pre-dawn back by several hours, making it unavailable to network morning shows that typically aired it. 
The Emmy ceremony will air Sept. 20 on Fox with Andy Samberg as host.