Giants home losing streak reaches eight straight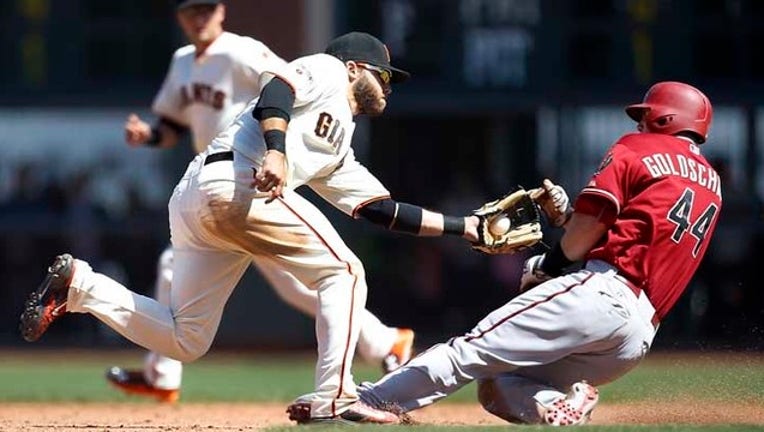 article
Heston pitched his gem against the New York Mets on Tuesday in his 13th major league start. His shot at matching Johnny Vander Meer's record of throwing consecutives no-hitters in 1938 ended with one out in the second when Jake Lamb doubled.
The rookie right-hander gave up three runs — two earned — on seven hits. He walked four and struck out two. Heston (6-5) had won four of his previous five decisions.
Chris Owings drove in two runs for Arizona.
De La Rosa (5-4) won for the first time since May 12, a span of six starts. He walked two and struck out six in eight-plus innings.
Daniel Hudson took over for De La Rosa following Joe Panik's double and Brandon Belt's single. He struck out Brandon Crawford and grazed Casey McGehee with a pitch to load the bases.
Buster Posey entered the game as a pinch hitter but Hudson got him to ground into a double play for his first career save.
The Giants twice hit into double plays with a runner on third, and hit into four overall. Crawford, in his first start as a cleanup hitter, had two hits for the Giants.
The Diamondbacks won six of their first seven games at AT&T Park and are not due to return until the middle of September. They own a 7-3 overall series lead.
The Giants lost their fourth straight overall and have lost eight in a row at home for the first time since 1993.
Lamb scored the game's first run on a two-error play by Crawford, who lost the handle on a grounder by Wellington Castillo and then overthrew first base to allow the run.
Crawford threw out Ender Inciarte attempting to score the next inning but the Diamondbacks scored twice in the fifth against Heston, who allowed five of the first six batters he faced to reach base that inning. Owings doubled home two runs.
Inciarte reached second on a fielding error by Jason Maxwell, who was in center field with Angel Pagan getting the day off and Gregor Blanco on the 7-day concussion list. After stealing third without a throw, Inciarte scored on A.J. Pollack's sacrifice fly.
Giants' Jarrett Parker singled in the fifth, his first major-league hit.