Giants' Hunter Pence upbeat in clubhouse despite broken arm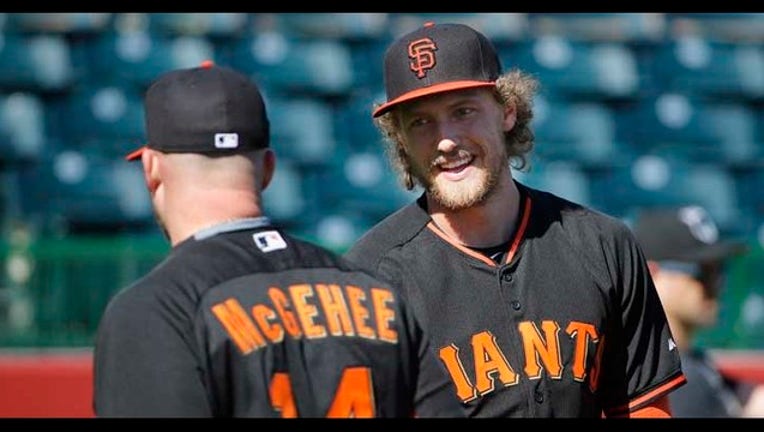 article
SCOTTSDALE, Ariz. (AP) — Despite a cast on his left arm, the perennially optimistic Hunter Pence arrived upbeat in the San Francisco clubhouse on Friday.
The Giants outfielder is expected to miss six to eight weeks after a pitch by Chicago Cubs prospect Corey Black fractured his left forearm on Thursday.
"I heal pretty fast, generally, usually quicker than I'm supposed to," Pence said.
Black, a 23-year-old who spent last season in Double-A reached out to Pence on Twitter and apologized, saying he hopes the star heals quickly.
Pence has played in 383 consecutive games — the longest active streak in the majors — since the Giants got him in a trade from Philadelphia in July 2012. The string is all but over with the World Series champions set to open April 6 at Arizona.
Minus the 31-year-old Pence, the Giants could start the season with an outfield of newcomer Nori Aoki, Angel Pagan and Gregor Blanco. Juan Perez, who hit .170 in 61 games last season, started in Pence's right field spot Friday against Texas.
Pence hit .277 with 20 home runs and 74 RBIs last year. He also scored 106 runs, added 29 doubles and a career-high 10 triples, and stole 13 bases.
Pence then batted .444 in the World Series as the Giants beat Kansas City in seven games.
The Giants, who have won three championships in the last five years, were already heading into this season missing the big bat of former World Series MVP Pablo Sandoval, who signed with Boston.
Pence said he had a good night's rest despite the cast on his left hand that has his elbow immobilized at a 45-degree angle.
"I did some research on how I'm supposed to sleep," Pence said. "I just propped it up on a pillow and slept well."
Pence has averaged playing over 152 games a season in his eight-year career with the Houston Astros, Phillies and Giants.
"I'll do the best I can and focus as hard as I can to be ready," he said. "I want to be here for the guys and help out with whatever is needed."
True to his nature, Pence, who possesses an unorthodox style of hitting and throwing, called the bad break "a great positive." In fact, he never uttered a discouraging word about it.
Pence has sustained a broken left wrist and a broken pinkie while playing baseball, and understands injuries are just part of the game.
"These things happen," he said. "You can't ever be upset, especially when there was no intent. The saddest part is I can't comb my hair anymore."
Pence signed a five-year, $90 million contract with the Giants late in the 2013 season. He's popular for his production and enthusiastic personality.
Black tweeted that he was "lost for words" and added "hitting someone is never a good feeling. Hurting someone is even worse."
Pence wrote back saying, basically, no worries.
"I have no hard feelings toward him," Pence said. "It's something that happens. We all know what we're getting into. I could hit a pitcher with a line drive. I don't mean to, and I feel bad, but it's part of the game. This is respect among competitors. This is nothing."
Pence thanked fans and teammates for their support, saying: "The amount of texts and support I received. It was touching."
"The fan support is special. To me it's not that big of a deal. I'm not dying. It's just a month. It couldn't happen at a better time. I have a lot of time to get ready for regular season games."
One of the more vocal leaders in San Francisco, Pence plans to do everything in his power to be ready as soon as possible. The Giants told him there was nothing physical he could do Friday and Pence took that a step further.
"I'm always doing something," he said. "Doing nothing is something. I'm healing and that's something."
Giants catcher Buster Posey said the team will miss Pence on the field, but that he'll still be around providing energy and enthusiasm.
"He's a guy who can contribute off the field," Posey said.