Golden State Warriors 1 win away from NBA Finals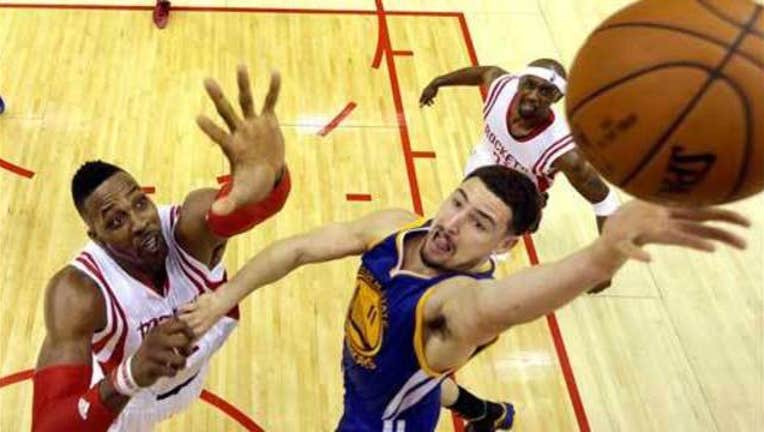 article
HOUSTON (AP) — Stephen Curry and the Golden State Warriors aren't worried about a letdown in Game 4 after taking a 3-0 lead over the Houston Rockets in the Western Conference finals.
"It's easy for us to stay hungry because none of us have really experienced this before or accomplished really anything," Curry said.
The Warriors are one win away from reaching the NBA Finals for the first time since they won the 1975 title after Curry poured in 40 points in a 115-80 win in Game 3 on Saturday night. The MVP made seven 3-pointers in the victory to set an NBA record for most 3s in a postseason with 64.
Coach Steve Kerr doesn't believe anything will change for his team now that the Warriors are on the cusp of advancing heading into Monday night's game in Houston.
"They know that the most important thing is just the next play," Kerr said. "Keying in on competing and paying attention to all the little details, focusing on the mission and not the result, that's always been our mantra and it's especially true in moments like these. Just keep going, keep pushing."
The Rockets are hoping to turn the page after an embarrassing showing in front of their home crowd that came after playing well in two close losses to start the series in Oakland. The Warriors controlled Game 3 from beginning to end and Houston looked listless and overmatched in the blowout.
"We've got to stay positive," Houston center Dwight Howard said. "It's that negative energy that can go from one person to the next, and we just seemed to fold. We don't want to be the team that folded under pressure."
Houston has experience in rebounding from a series deficit this postseason after falling behind 3-1 to the Clippers in the conference semifinals before reeling off three straight victories to advance. They're undaunted by the fact that no team in NBA history has won a series after trailing 3-0.
"The rest of the series is about pride," Houston point guard Jason Terry said. "It's about coming out and establishing that you are a tough team, and we've been doing that throughout this postseason. There's no doubt in my mind that will be the case (Monday) night."
Some things to know heading into Game 4.
HOWARD THE LEADER
Howard has emerged as Houston's leader in its playoff run and discussed the team's plight at length on Sunday when fellow star James Harden was unavailable to the media. Howard, who missed half of the regular- season games with injuries and who is playing through a knee injury suffered in Game 1, was upset about how the Rockets responded when they got down early Saturday night.
He was asked if he saw quit from his teammates in that game.
"I saw quit from everybody in the arena," he said. "We can't have that ... no matter how far you fall you're never out of the fight. That's the way you've got to look at it. We may be down 3-0, but we've got to continue to fight. That's the only way. If we don't believe, then who else will?"
CURRY'S REBOUND
For all of his great attributes, Curry isn't known for his rebounding. But the 6-foot-3 point guard got some love for that skill after jumping in front of the almost-7-foot tall Howard on Saturday to grab an offensive rebound. Curry shook his head when told it was one of the top 10 plays on ESPN's SportsCenter on Saturday night and said it was a stretch for that play to make the list.
"It's probably unexpected and surprising for most people," he said. "Right place, right time."
Howard, who led the Rockets with 14 rebounds, downplayed the moment.
"I didn't even see Curry," he said. "My man was out on the perimeter, so I just thought nobody was there, and I turned around, and Steph Curry ... got a rebound. It happens. It's basketball."
INSIDE GAME
The Warriors dominated inside Saturday night, grabbing 21 more rebounds than Houston and outscoring the Rockets 58-42 in the paint. Houston coach Kevin McHale was particularly unhappy with his team's offensive rebounding as they had just nine to 17 by Golden State.
"If we don't win the points in the paint, don't win the rebound battle, we don't win a lot of games," McHale said. "You can look at our record throughout the course of the year. We've got to win at least one of those, and if we win both of those, we do pretty well."
THE WOW FACTOR
Kerr has had a front row seat to Curry's heroics all season, but said there are still times he is wowed by the things the superstar can do.
"(Saturday) night I had a few of those moments," Kerr said. "Third quarter when we're kind of sputtering and he makes a few 3s in transition. He's a special player. He's the MVP for a reason and guys like that they sort of lift you up when you most need it and he continues to do it."