Good weather at Pebble, good golf from John Daly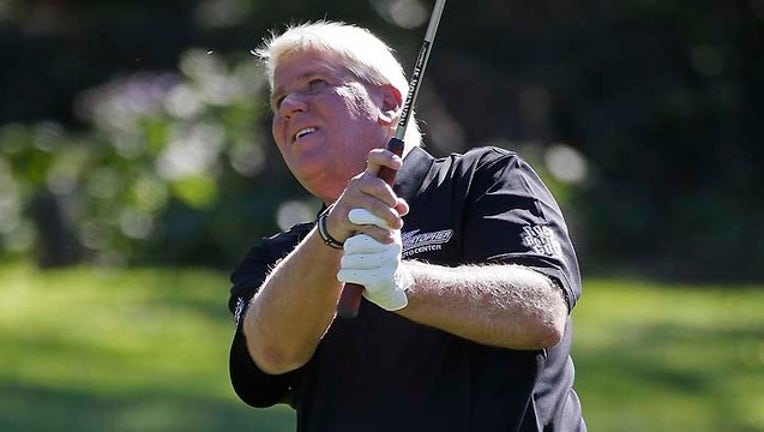 article
PEBBLE BEACH, Calif. (AP) — John Daly had the kind of round that matched the weather at Pebble Beach.
On Thursday, finally, that was good news on both fronts.
The sunshine and surf was all anyone could talk about at the AT&T Pebble Beach National Pro-Am until Daly stole the show. Wearing his Loudmouth pants with a wild pattern called "In The Jungle," he made his way around Pebble Beach by hitting fairways, making putts and keeping bogeys off his card. The two-time major champion had a 7-under 65, his lowest opening round on the PGA Tour in nearly 10 years, and was one shot behind J.B. Holmes and Justin Hicks.
Finally, some happy memories for Daly at Pebble Beach.
He once went 11 holes without making a par on his way to an 86. In the 2000 U.S. Open, he took a 14 on the 18th hole — three balls in the ocean, one out-of-bounds — for an 83 and headed for the airport. He has missed the cut straight times after playing this tournament as a rookie in 1991.
John Daly with a 65? That's a bigger surprise than abundant sunshine and aqua waves.
That's why Daly could only laugh when he heard what a volunteer said as he finished up with a 15-foot birdie on the par-5 18th. The sign for each group in the pro-am has the player and the team score, and when the standard bearer put a red 7 next to Daly's name, the volunteer said, "Daly is at 7 under? On his own?"
"I drove it well, hit irons well," he said. "It was one of those rounds. I have five gimmes for birdies, made a couple of par putts. I was never in any trouble. I can't remember any day when Pebble was so subdued. The whole course looked like a postcard. Ever since I've been a pro, I've never seen it look that pretty."
Of the three courses, Pebble typically is the biggest pushover in benign conditions.
Holmes and Hicks both played Pebble Beach and got their charge at different ends of their rounds. Holmes, coming off a playoff loss at Torrey Pines, holed out a wedge from 123 years on his opening hole (No. 10) and then stuffed a wedge to 5 feet for birdie on the next hole. Even though he made just one birdie on the par 5s — and that was a 20-foot putt — he shot 8-under 64.
Hicks finished with an approach into 18 feet for eagle on the 18th and joined him at the top.
Jim Furyk, former Pebble winner Brandt Snedeker and Chesson Hadley were at 7-under 64 at Monterey Peninsula, while J.J. Henry and Dudley Hart joined Daly at 65 at Pebble Beach. The low score at Spyglass Hill belonged to Alex Prugh at 6-under 66.
"To have weather like this now — it's supposed to be like this all week — it is absolutely incredible," said Furyk, making his 2015 debut. "It's already one of the most beautiful places I've been to and then to have weather like this, it's just spectacular."
Jason Day, coming off a playoff win at Torrey Pines that included Holmes, struggled to a 72 at Pebble Beach. He wasn't even the low Day in the day. Glen Day, in his final year before he is eligible for the Champions Tour, shot a 5-under 66 at Monterey Peninsula.
Defending champion Jimmy Walker shot 72 at Spyglass Hill.
Daly, however, caused the biggest stir. It was his best start since a 64 in the Byron Nelson Championship in 2005.
He can deliver a good round — or win a major, for that matter — out of nowhere. Still, this wouldn't seem to be the place for it. Daly tied for 20th at Pebble Beach in his rookie season in 1991 and he hasn't made the cut since then.
"That wouldn't shock me," Daly said when told of his record. "I still haven't made it yet."
Next up is a trip to Monterey Peninsula, and Daly isn't sure what to expect. Part of him was still in shock over the colors — emerald green on the fairways, blue in the ocean and that big yellow ball in the sky, always a welcome guest.
Daly only missed three fairways and took 26 putts, two areas of his game that have cost him over the years. And for all the great golf he played, he couldn't stop talking about the weather. He usually only sees Pebble like this on a postcard.
"It's just great to be able to come out here and not have to survive the weather and survive the golf course," he said. "But we'll just see what happens."
It wasn't clear if he was talking about the weather or his game.