Hundreds gather for Lisa Marie Presley's memorial service
MEMPHIS, Tenn. (AP) - Hundreds of people gathered on the front lawn of Graceland on a gray, chilly Sunday morning in Memphis to mourn the death and remember the life of Lisa Marie Presley, who died earlier this month.
Some mourners held flowers as they waited for the service to begin under the tall trees on the lawn of Graceland, the home where Lisa Marie lived as a child with her father, Elvis Presley. The mansion, which Lisa Marie Presley owned, has been turned into a museum and tourist attraction that hundreds of thousands of fans visit each year to celebrate the life and music of Elvis, who died in 1977.
Fans line up to pay their respects at the memorial for Lisa Marie Presley at Graceland on January 22, 2023 in Memphis, Tennessee. (Photo by Justin Ford/Getty Images)
The property in south Memphis was a place of sadness and somber memories on Sunday. Presley, a 54-year-old singer-songwriter dedicated to her father's legacy, died Jan. 12, hours after being hospitalized for a medical emergency.
The service began with the singing of "Amazing Grace" by Jason Clark & The Tennessee Mass Choir.
"We would like to express our heartfelt gratitude for the love, compassion and support you have shown our family during this difficult time," said a message from the Presley family written on the program for the service. "We will always be grateful."
Among those expected to speak or sing during the service were Lisa Marie Presley's mother, actress Priscilla Presley; her daughter, actress Riley Keough; Sarah Ferguson, the Duchess of York; and singers Billy Corgan, Alanis Morissette and Axl Rose.
After the service, mourners will make a procession through Graceland's Meditation Garden, where she is being laid to rest.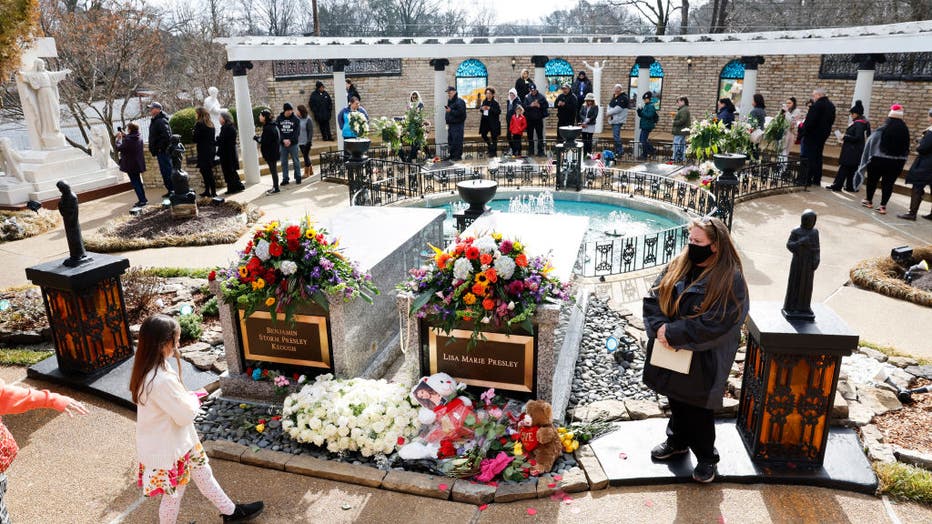 Fans visit the grave of Lisa Marie Presley and Graceland meditation pool during her memorial on January 22, 2023 in Memphis, Tennessee. Presley, 54, the only child of American singer Elvis Presley, died January 12, 2023 in Los Angeles. (Photo by Jaso
Presley, 54, died Jan. 12, hours after being hospitalized for a medical emergency.
It was previously announced that Presley will be buried at Graceland next to her son, Benjamin Keough, who died in 2020. Elvis and other members of the Presley family are also buried at Graceland.
RELATED: Lisa Marie Presley made final public outing at Golden Globes, applauding Austin Butler for 'Elvis' award
A singer-songwriter herself, Lisa Marie did not live in Memphis, where she was born. But she made trips to the city for celebrations of her father's birth anniversary and commemorations of his death, which stunned the world when he was found dead in Graceland at age 42 on Aug. 16, 1977.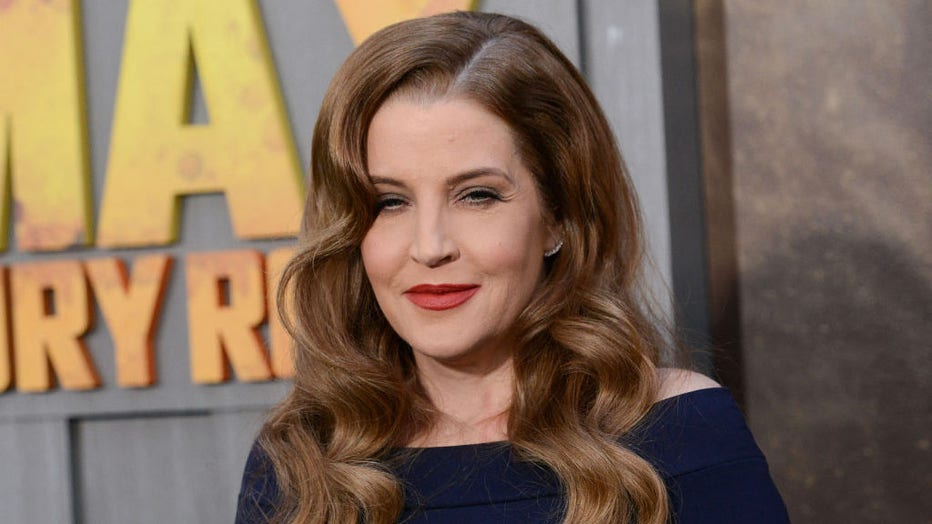 US actress and singer Lisa Marie Presley arrives for the premiere of 'Mad Max: Fury Road' at the Chinese theatre in Hollywood, California, on May 7, 2015. (Photo by Chris Delmas/AFP via Getty Images)
Lisa Marie became the sole heir of the Elvis Presley Trust, which — along with Elvis Presley Enterprises — managed Graceland and other assets until she sold her majority interest in 2005. She retained ownership of the mansion itself, the 13 acres around it and items inside the home.
RELATED: Lisa Marie Presley previously addressed Graceland's future: 'That is that'
She is survived by her mother, Priscilla Presley, and three children.