Grandmother of slain Sacramento man calls for police changes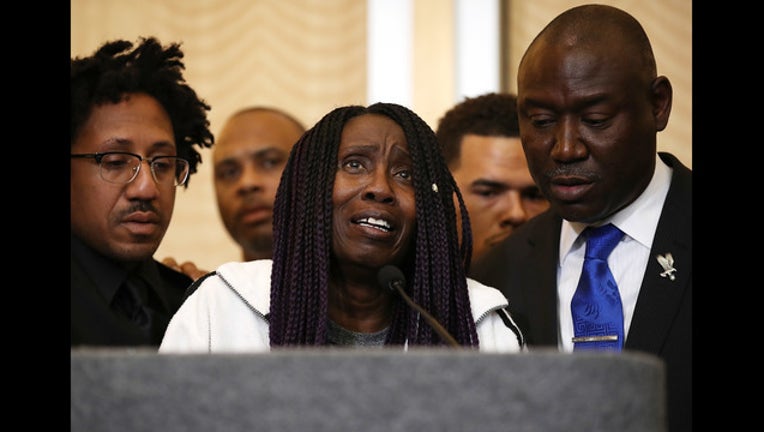 article
By DON THOMPSON
Associated Press
SACRAMENTO, Calif. (AP) -- The grandmother of an unarmed black man killed by Sacramento police called Monday for changes in the way police confront suspects, such as sending in a police dog, using a Taser, or aiming for an arm or leg when shots are fired.
Sequita Thompson said at an emotional news conference that police didn't need to shoot at 22-year-old Stephon Clark 20 times, killing him in her darkened backyard March 18.
"They didn't have to kill him like that, they didn't have to shoot him that many times," she said through sobs, recounting the night of his slaying. She believes Clark was in the backyard trying to get into the house he shared with his grandparents and other family members when he was shot.
He's the latest prominent face of young black men killed by police nationwide, said the family's renowned civil rights attorney, Benjamin Crump. He called it an "execution" of a man who "chose nonviolence" and was found with only a cellphone and not the handgun police thought he was aiming in their direction.
Members of the Sacramento Kings and Boston Celtics NBA teams took up his cause Sunday, wearing Clark's name on black warm-up T-shirts three days after protesters formed a human chain blocking entrances to the Kings' Golden1 Center and prevented all but about 1,500 fans from entering.
Police said they were pursuing a suspect who had broken at least three car windows and a neighbor's sliding glass door. They say the suspect fled from two responding officers and ignored commands to stop and show his hands. Video and audio recordings released by the department last week show the officers appear to genuinely believe Clark had a gun, and independent experts said they are unlikely to face criminal charges.
Leaders of the NAACP want the Sacramento police department to change its foot pursuit policy to allow for options like waiting for backup, sending in a police dog, backing off and maintaining surveillance or using less-than-lethal force like Tasers during confrontations.
"We're always open to the conversation about how we can do things differently or better and this case is no different," said Detective Eddie Macaulay, a department spokesman. 
The NAACP also called for an independent investigation but said the two officers should be criminally charged. State NAACP President Alice Huffman said the organization has asked the U.S. Justice Department's civil rights division to investigate the killing. The group also wants California to create an inspector general to investigate police-involved shootings.
It is rare for police officers to even be charged following a shooting and rarer still for them to be convicted. Often times it's because of the doctrine of reasonable fear: if prosecutors or jurors believe that officers have a reason to fear for their safety, they can use force up to and including lethal force.
Moreover, officers are trained to keep firing until they believe the threat has been eliminated, rather than aiming to wound a suspect who then might still be able to attack them.
Crump said the family planned Monday to view Clark's body in preparation for an independent autopsy. A wake is planned for Wednesday night and his funeral is Thursday, said NAACP Sacramento Branch President Betty Williams. Clark's uncle, Kurtis Gordon, in brief remarks with his voice cracking thanked former Kings player DeMarcus Cousins for helping to cover the funeral expenses and for the national and international outpouring of support for his family.
"No family should have to endure this pain and suffering," Crump, who represented the families of Trayvon Martin and Michael Brown, said at a news conference interrupted by shouts of "amen," "enough is enough" and the chanting of Clark's name. 
Thompson recounted in a barely audible voice how she was watching a video of a granddaughter dancing when, "all I heard is boom, boom, boom."
She crawled to where her 7-year-old granddaughter was sleeping on the couch and pulled her to the floor, then crawled to her husband and told him to call 911. Her husband said he'd heard someone come to the backdoor and ask to be let in.
"It had to be our grandson," Thompson said, wailing.
Homicide detectives later told her not to look outside where she would see the body of Clark, the father of two young sons.
"Now my great-grandbabies don't have their daddy," she said. "Why didn't they just shoot him in the arm, shoot him in the leg? Send a dog? Send a Taser? Why? Ya'll didn't have to do that.
"I want justice for my baby," she said before sobbing on Crump's shoulders and being led away. "I want justice for Stephon Clark."
 
   ----
 
   This story has been corrected to show the proper identification of one of the speakers. The speaker was Clark's uncle, Kurtis Gordon, not his brother, Stevante Clark.