Green leads Warriors over the Clippers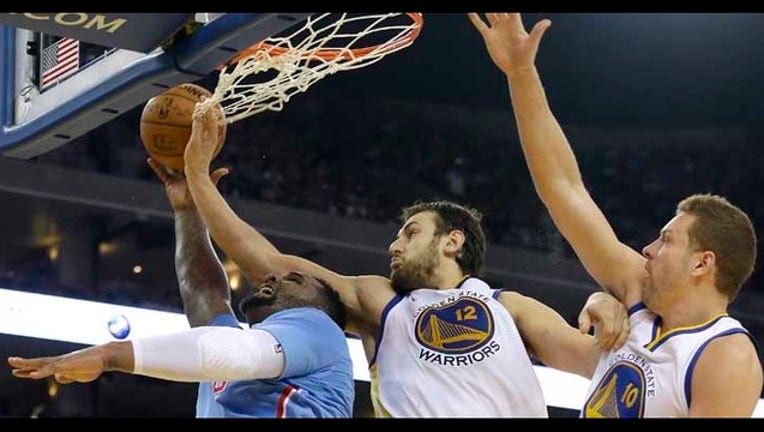 article
OAKLAND, Calif. (AP) — Draymond Green had 23 points and six assists and the Golden State Warriors beat the Los Angeles Clippers 106-98 on Sunday for their sixth straight home victory.
Klay Thompson added 21 points on 9-for-13 shooting in the matinee with both teams leaving town and having a game Monday.
Shaun Livingston gave Golden State another nice lift off the bench with a season-best 21 points and eight rebounds in 28 minutes as the supporting cast took some pressure off do-everything point guard Stephen Curry.
Curry, greeted by chants of "M-V-P!," didn't score his first field goal until 5:16 before halftime and finished with 12 points and four assists.
He put the Warriors up 65-52 at the 8:44 mark of the third with a snazzy, off-balance 3 in which he dribbled behind his back and into traffic at the top of the key, dribbled out, stepped back and released under pressure from the top of the arc.
Austin Rivers had 22 points off the bench and JJ Redick scored 18 points to lead Los Angeles in another physical, testy matchup between the rivals after the Clippers eliminated Golden State in the first round of last season's playoffs.
The Clippers have lost five in a row at Golden State and were again without Blake Griffin for a 12th straight game as he recovers from surgery to remove a staph infection from his right elbow.
"I don't think they like us. I don't know why," Los Angeles coach Doc Rivers quipped. "Steve (Kerr) told me he didn't like me. We're the last team to knock them out, and they know that. So I think that adds to it."
Golden State lost 100-86 at Los Angeles on Christmas after beating the Clippers by 17 at Oracle Arena in early November. The teams combined for 15 of 60 from 3-point range on Dec. 25.
The home team has won each of the last 10 regular-season games. The rivals play once more on March 31 at Staples Center.
Thompson's three 3s pushed him past Kerr (726) on the NBA's all-time list.