Green shows range, leads Warriors past Jazz for 2-0 lead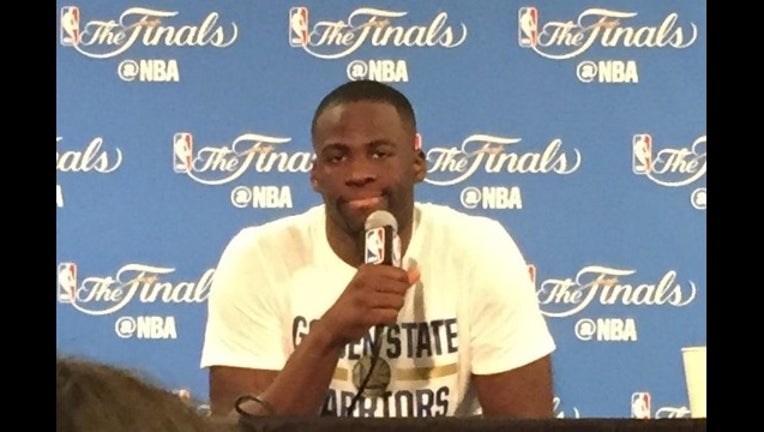 article
OAKLAND, Calif. (AP) - Draymond Green showed Quin Snyder his hot hand and range up close, knocking down five 3-pointers and scoring 21 points before a brief knee scare late in the Golden State Warriors' 115-104 victory over the Utah Jazz on Thursday night for a 2-0 lead in the Western Conference semifinals.
Kevin Durant added 25 points, 11 rebounds and seven assists, while Stephen Curry had 23 points, seven assists and played smothering defense as Golden State stayed unblemished through six playoff games.
Gordon Hayward overcame a poor Game 1 and slow start in this one to score 33 points, and Rudy Gobert had 16 points and 16 rebounds before fouling out for a Jazz team missing injured point guard George Hill. He was ruled out earlier in the day because of a sore left big toe.
Game 3 is Saturday night in Salt Lake City.
Green received chants of "Dray-mond!" when he headed for the locker room with 7:24 to play, then cheers when he returned at the 5:16 mark. He came up awkwardly after hitting the floor on a drive, then grabbed at his left knee - which the team said he "tweaked."
Snyder made it clear when the series began he won't be alienating Green again by daring him to let it fly from long range - or saying anything that could be perceived as criticism.
Five months after the Jazz coach questioned Green's perimeter range and commented about allowing the emotional Golden State star to shoot from way out, Snyder said before the game he had learned his lesson about fueling the All-Star forward.
Green has been fueling himself just fine, and his teammates, too - delivering on the offensive side this game after establishing the Warriors' defensive intensity during the first five playoff games.
All his 3s were in the first half as the Warriors led wire to wire again. Golden State's six straight victories to begin a postseason are a franchise record.
Green also had seven rebounds, six assists, four steals and another block to bring his six-game playoff total to 20.
The Jazz will have to hope more of their shots start falling once back home at altitude.
Hayward began 1 for 5 but bounced back after going 4 for 15 in Game 1.
Utah cut the lead to six on Rodney Hood's jumper with 9:55 remaining in the third and trailed by 10 heading into the final 12 minutes. The Warriors went on a 5-0 run and the Jazz couldn't do much more to threaten.
Shelvin Mack started in Hill's place and scored 14.
Warriors coach Steve Kerr missed his fourth straight game as he deals with symptoms stemming from complications after two back surgeries following the 2015 championship run. Kerr won't travel with the team to Utah as he seeks answers in his healing and goes to medical appointments. Mike Brown and a veteran coaching staff are leading the way.
TIP-INS
Jazz: The Jazz managed only 15 first-quarter points on 5-for-18 shooting and missed seven of 10 3-point attempts. ... After a 44-37 rebounding advantage in Game 1, the Warriors led the way on the boards 47-39.
Warriors: Green notched his 11th career 20-point game in the postseason. ... Golden State matched its 2017 postseason high for assists in a half with 19 in the first. ... The Warriors were set to fly about noon Friday then practice at Vivint Smart Home Arena upon arrival. ... The Warriors had 17 turnovers after totaling just 24 spanning the previous three games, the team's fewest since 23 over three games in December 1986.
POINT GUARD BY COMMITTEE
Snyder knew the Jazz couldn't pick up Hill's production with one person.
"George's scoring and shot-making ability is something we miss when he's not playing," Snyder said. "It's a shared load. It doesn't really fall to one guy in particular."
Snyder emphasized his guards would have to pick up Green bringing the ball up the floor, saying, "He's like Magic Johnson out there pushing the ball."
___
More AP NBA: apnews.com/tag/NBAbasketball