Grief crystallizes as victims of Chattanooga rampage identified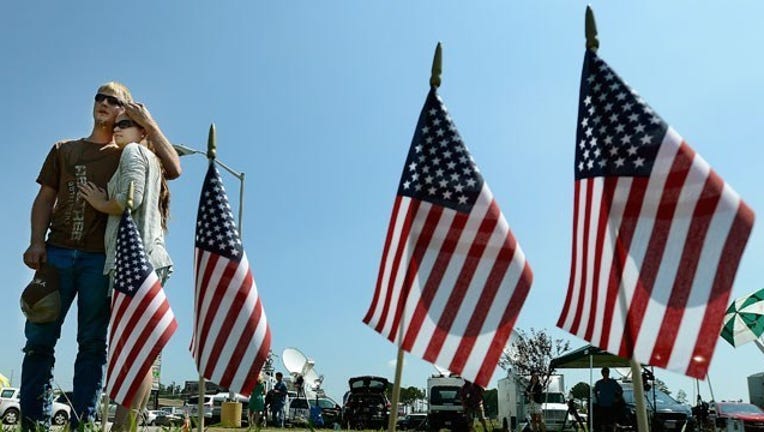 article
CHATTANOOGA, Tenn. (KTVU-AP) -- They were four people charged with the safety of others, gunned down in a place where the nation's defense is the paramount mission for those who pass through its doors. They are being deemed heroes by some, and the cruel irony of protectors becoming targets was not lost, with President Barack Obama calling it "a heartbreaking circumstance" to lose four men who served "with great valor."
Here is a look at the Marines killed in the attack on two military facilities in Chattanooga, Tennessee:
THOMAS SULLIVAN
Ripples of grief were apparent as a stream of visitors brought flowers, food and gifts Friday to the Hampden, Massachusetts, home of Jerry and Betty Sullivan, the parents of Gunnery Sgt. Thomas Sullivan. A police officer was stationed outside to keep reporters and onlookers away. Masslive.com said Sullivan, 40, grew up in Springfield, Massachusetts.
The Pentagon said he had been enlisted nearly 18 years, serving two tours of duty in Iraq and earning two Purple Hearts.
His hometown mayor, Dominic Sarno, called Sullivan a man who "dedicated his life in brave service." Gov. Charlie Baker ordered flags to half-staff as he proclaimed "Terror comes home to Massachusetts." Sullivan's unit — India Battery, 3rd Battalion, 12th Marines — called him "one of our own" on its Facebook page. A giant U.S. flag and another representing the Marine Corps hung outside a Springfield restaurant owned by Sullivan's brother Joseph.
"He was our hero," read a post on the Facebook page of Nathan Bill's Bar and Restaurant, "and he will never be forgotten."
Outside the home of Sullivan's parents, Hampden Police Chief Jeff Fansworth told reporters the family was in shock and disbelief.
"How hard would it be for anybody to lose a child?" he asked. "It doesn't get much harder than that."
___
SKIP WELLS
The mother of Lance Cpl. Squire Wells, who was known as Skip, was watching news coverage of the Chattanooga shooting Thursday when a Marine Corps notification team arrived with the dreadful message.
"Every service parent, especially moms, dreads opening the front door and seeing people in uniform," said Andy Kingery, a friend who is acting as a family spokesman.
Wells was from the Atlanta area and in his early 20s. Kingery said Wells had attended Georgia Southern University but joined the Marines, a decision he said his friend was proud of.
"Skip Wells died doing what he wanted to do and had chosen to do," Kingery said.
The Pentagon said Wells had enlisted in February 2014 and was a field artillery cannoneer.
___
CARSON HOLMQUIST
So proud a Marine was Sgt. Carson Holmquist that when he finished boot camp, he returned to his hometown of Grantsburg, Wisconsin, and paid a visit to his high school dressed in his formal blues. Grantsburg High School Principal Josh Watt, who was one of Holmquist's football coaches, remembers the day his former cornerback showed up, the pride in his accomplishment apparent.
"When he became a Marine he was very proud of that," Watt said Friday.
The principal remembered Holmquist as a strong player, an avid sportsman who loved to hunt and fish, a young man committed to succeeding. He graduated in 2008; the Pentagon said he enlisted in January 2009 and was serving as an automotive maintenance technician. He had completed two deployments as part of Operation Enduring Freedom.
Reached by phone, the slain Marine's father said he wasn't ready to talk yet, and his grandmother declined to comment as well. Sadness over the loss was permeating his small hometown.
"It's a very tough day in Grantsburg," Watt said.
___
DAVID WYATT
Staff Sgt. David Wyatt had been a Marine for more than 11 years and was deployed three times, including twice in Iraq. The Pentagon listed his home as Burke County, North Carolina.