Hawks use balance to win showdown with Warriors, 124-116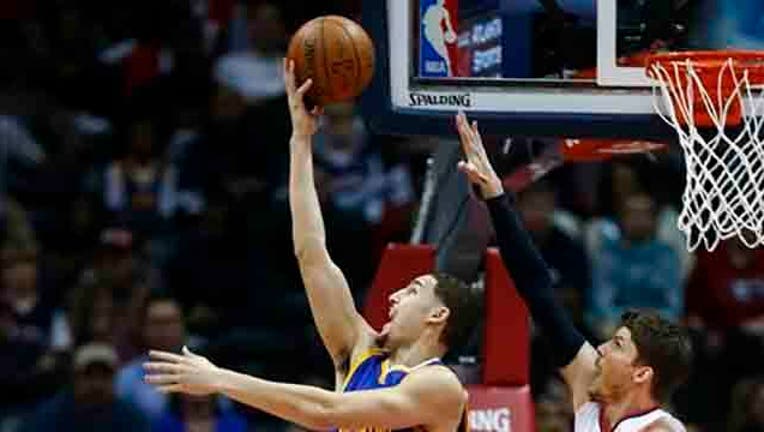 article
ATLANTA (AP) — Atlanta's balance overcame Golden State's one-two backcourt punch as Jeff Teague scored 23 to lead seven players in double figures and the Hawks beat the Warriors 124-116 on Friday night in a showdown between the NBA's conference leaders.
The anticipated matchup did not disappoint. It was tied 52-all at halftime and Atlanta led by four entering the final period.
Back-to-back 3-pointers by Mike Scott and Kyle Korver, who each had 17 points, helped stretch the lead.
The one-two punch of Stephen Curry and Klay Thompson did do some damage. Thompson scored 29 points and Curry had 26 for Golden State, which had its three-game winning streak snapped.
Al Horford had 12 points and 14 rebounds despite having his playing time limited by foul trouble in the second half.
Paul Millsap had 21. Teague had 11 points in the final period, most coming on free throws.
Atlanta led 100-90 with 8:32 remaining. Golden State cut it to six points when Horford was charged with an offensive foul — his fifth. Horford drew a technical when protesting the call. He had to leave the game, just as he did with 8:21 remaining in the third, when he drew his fourth foul, also on a charge.
Less than three minutes later, Golden State's Draymond Green drew a technical for arguing a foul call.
The Hawks pulled even late in the half with five quick points. Following a drive and finger-roll layup by Dennis Schroder, Horford's steal set up Korver's 3-pointer for a 34-all tie.
Curry made only three of nine shots in the half. He had more success with his slashing drives through Atlanta's defense than he did when making only one of five 3s in the half. Curry had two late driving layups, and two free throws by Thompson with one-tenth of a second remaining tied the game at 52-all at half.
The game brought together three contenders in the Three-Point Contest on Feb. 14, one day before the NBA All-Star game. The "Splash Brothers" of Curry and Thompson and Atlanta's Korver will join five others in the contest.
Korver had support from other long-range shooters. Kent Bazemore made each of his three 3s in the first half. Scott hit back-to-back 3s at the end of the third to give Atlanta an 89-85 lead entering the final quarter.