Heavy rains create treacherous morning commute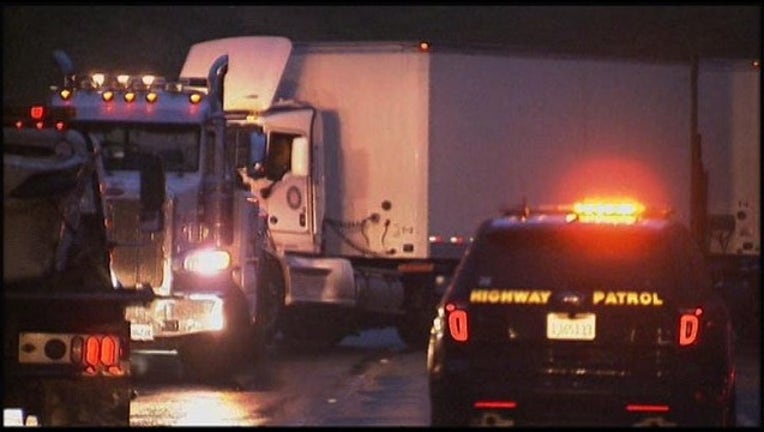 article
OAKLAND, Calif. (KTVU and wires) – A potent storm front rolled through the Bay Area early Tuesday, dumping more than an inch of rain in many areas and turning the morning commute into a treacherous adventure.
According to KTVU Meteorologist Steve Paulson the storm has brought the most significant rainfall to the drought stricken region since Feb. 6-8.
As of 7 a.m., the storm had dumped 1.67 inches of rain on Daly City, 1.32 inches on Mill Valley, 1.3 inches in Soquel, an inch in Sausalito and 0.74 of an inch in San Francisco.
A dusting of snow was also reported on Mount Konocti in Lake County.
Behind storm unstable cold air was massing off shore to bring possibility of heavy rain, hail and thundershowers in the afternoon hours.
But in terms of the drought, Diana Henderson said the rains would only give temporary relief.
"It's a start but it's just not enough," Henderson said. "We have a rather large deficient to make up for. One or 2 inches around the Bay Area is just not going to do it."
In the Bay Area, the storm turned the morning commute into a nightmare for many drivers. The worst crash and backup took place in the northbound Interstate Highway 680 just north of Mission Blvd. at around 4:26 a.m. when a truck jack-knifed and blocked all but one lane for more than 2 hours.
The bottleneck began to unwind around 7 a.m. when the big rig had finally been removed from the freeway and nearly all lanes were reopened.
The steady rain triggered flooding in Daly City near Hillsdale Blvd. and work crews cleared a clogged drain that flooded near the junction of U.S. Highway 101 and Interstate Highway 80 in San Francisco.
The first report of the flooding came in at 2:38 a.m. One lane of eastbound I-80 just west of Seventh Street was submerged and another was partially flooded.
In the Sierra, forecasters say 6 to 12 inches of snow could hit about 4,000 feet, with 1 to 2 feet on the higher peaks. The National Weather Service in Sacramento has issued a winter storm warning above 3,500 feet for heavy snow, which is in effect to 6 p.m. Tuesday.
Mountain travel could be hazardous with slick roads, and motorists should carry chains and watch speeds, especially above 3,500 feet.
Last week, Gov. Jerry Brown stood in dry brown grass at a site normally covered in snow this time of year and declared the drought conditions gripping the state at its worst point in decades.
The April 1 snow survey in the Sierra Nevada that Brown attended measured at a dismal 5 percent of historical average.