Heavy traffic expected for NASCAR race at Sonoma Raceway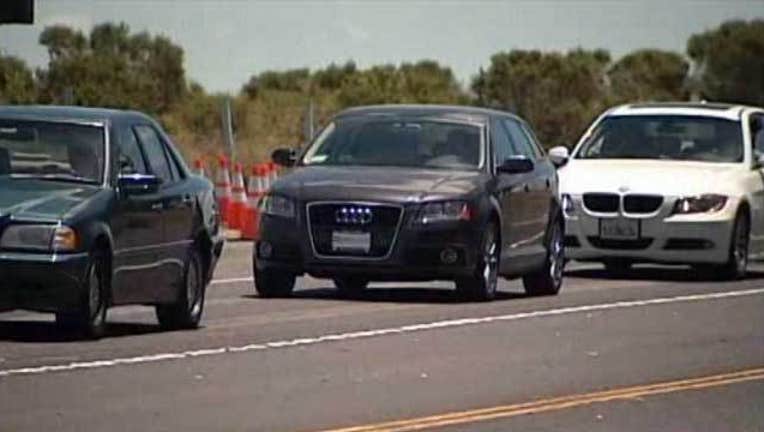 article
SONOMA COUNTY, Calif. (KTVU) -- As many as 100,000 racing fans are expected to attend this weekend's Toyota/Save Mart 350 event at Sonoma Raceway.
Traffic in the area of the raceway at state Highways 37 and 121 is expected to be heavy between 3 and 7 p.m. Friday, moderate on Saturday with lane controls in place, and at its peak all day Sunday when the actual race around the 10-turn course takes place. Gates open 7 a.m. Sunday.
A big draw to this year's annual Toyota/Save Mart 350 is the return of Jeff Gordon, a former Vallejo resident and five-time NASCAR cup series champion. Sunday's event will be his final sprint cup series race.
Sonoma Raceway's traffic mitigation efforts include posting 46 changeable message signs along highways within a 15-mile radius of the raceway that will direct non race-related traffic in and out of the Sonoma and Napa valleys and away from the two highways.
In past years, up to 85 percent of the drivers passing the Sonoma Raceway during the peak exit and entry times were not attending the race, the California Highway Patrol said.
When combined with race traffic, there can be hours of congestion for all drivers, Sonoma Raceway said on its website.
There will be seven signs along Highway 121 that direct race attendees to the appropriate entry gate and explain lane delineation for raceway and Sonoma/Napa traffic.
The raceway also has appointed a traffic manager to work with the CHP to provide real-time direction to maximize ingress and egress of traffic.
"The raceway has done an excellent job advising residents, businesses and visitors of the Napa and Sonoma valleys with its mailers, signage and electronic message boards," CHP Sgt. Brad Bradshaw said.
"Following the implementation of this new traffic plan in 2014, we saw a substantial reduction in traffic issues during the events around the raceway," Bradshaw said.
The Raceway Fun Train from Sacramento will bring nearly 700 fans to the track, and the SportsFanExpress bus program is slated to transport 1,000 fans from 29 locations around Northern California.
The Sonoma County Sheriff's Office will stringently enforce handicap parking pass checks, matching the driver's license with paperwork that includes the name and placard number. Offenders with fake or no handicap placards will be fined, ticketed or required to appear in court.
For more information about the best routes to and from the raceway and transportation options, visit www.racesonoma.com/traffic or call (800) 870-7223.